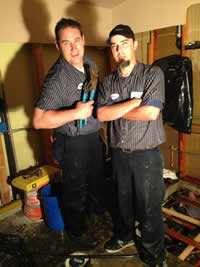 As the Boise area continues to grow and populate, new homes are constantly being built. With each new home, means a new plumbing system. All Star Plumbing & Restoration is proud to be an active part of the growing community in Boise and surrounding areas. With our skilled workers and cutting edge technology, we can set up high quality plumbing systems at a low cost in your new home and commercial business.
We encourage you to allow All Star Plumbing & Restoration to have a part in welcoming you to the beautiful Southern Idaho area. We would like to be a helping hand in your new home, providing you with trusting service and long-lasting plumbing for years to come. Our workers are experienced in a wide variety of areas involving both plumbing and restoration services.
At All Star Plumbing & Restoration, we understand that plumbing needs can be an emergency. That is why we offer emergency service 24/7 to fully accommodate to any and all of your plumbing needs. As the customer, we work around your schedule and will always treat you with respect. Though we may seem like just a small town plumbing service, we offer assistance in far more areas than just your typical plumbing needs.
Our experts are highly skilled in a wide variety of fields to help you and your family feel comfortable in your new home. We can paint your home, remove your carpets, take away your trash, even help you move. By providing assistance with so many maintenance aspects of a typical household, All Star Plumbing & Restoration customers are customers for the long haul. We take care of your plumbing and restoration needs and make efforts to prevent you from needing those types of services in the future.
We are always happy to take in new customers in new homes and work hard to make your new living experience as comfortable as possible. If you any questions, concerns, or residential plumbing needs in your new home, contact All Star Plumbing & Restoration new residential plumbing services and we will be happy to help you out in any way we can throughout the Boise/Meridian area!