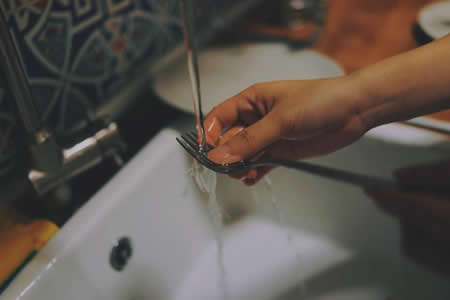 Garbage disposals are one of the most useful tools found in the kitchen. People who cook at home often use the garbage disposal at least once a day. Not having one in the home, or having a damaged one can be a huge inconvenience.
All Star Plumbing and Restoration can alleviate this inconvenience by replacing or installing a new garbage disposal for homeowners in Boise and throughout the Treasure Valley. It is recommended to call a plumber for this task because replacing or installing a garbage disposal requires dealing with electricity and water connections. Homes without a garbage disposal will need a switch and outlet installed for power. For those who aren't versed in garbage disposals, plumbing, and electricity attempting to install one of these could end poorly. If the garbage disposal is not connected properly, the appliance might not work properly or could cause water damage through leaking. There are also numerous garbage disposal-related injuries each year when homeowners attempt to repair or install a garbage disposal on their own. Avoid injuries and future repairs by calling All Star Plumbing and Restoration.
When is it time to replace the garbage disposal? There are a few signs that a replacement may be looming:
A garbage disposal in good shape will only take a few seconds to break down debris. If it starts taking longer, the blades may be damaged, or the system is just worn out.
Leaking is often a sign of a cracked garbage disposal, which cannot be repaired. It will have to be replaced instead.
If nothing happens when the switch is flipped, the garbage disposal might have burnt out.
Our team can inspect, repair, install or replace all three types of garbage disposals found in homes. These are:
1. Continuous Feed
This is the most popular of garbage disposals, and likely what most people have in their homes. When turned on, the mashers force food against the teeth on the inner wall, shredding it. Then the particles fall through small holes between the spinning plate and inside walls before going into the drain pipe.
2. Batch Feed
Although they operate like a continuous feed disposal, they are turned on much differently. A place stopper is placed in the disposal, which activities a switch that turns it on. From there food particles and cold water can be fed down the garbage disposal.
3. Dishwasher Disposal
This separate garage disposal grinds up food in the dishwasher. These are either installed in the dishwasher or are connected to the sink garbage disposal.
Before choosing a type garbage disposal, homeowners will need to check for permit requirements, and if garbage disposals are allowed in their area. Some areas are discouraging or banning garbage disposals in favor of other waste disposal tactics.
Once they have secured necessary permits and found a type, homeowners must determin the size they will need. This will depend mainly on how much waste they plan to dispose of through the garbage disposal. Larger families need more power than smaller families and those who cook at home often will use it more than families who tend to eat out. Another factor to consider is how large of a space is available.
Households with 1-2 people should invest in a 1/3 or ½ HP model. Those with 3-6 people will need a ½ ¾ HP model. Households with 5-8 people should have at least a ¾ engine, but should choose 1 HP if there is enough space. Homes with more than 8 people will likely need a 1-2 HP model.
Every home will have different garbage disposal needs. Talk to our plumbing team for assistance deciding which size of garbage disposal will work best in your home. Once installed by our team, the garbage disposal should last for years if it is used correctly.