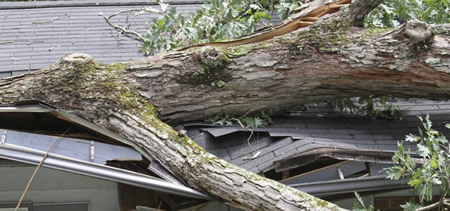 Here at All Star Plumbing and Restoration, one of the many services we offer is helping restore property from wind damage. However, we feel it's best we work to educate people so these stressful happenings don't occur in the first place. Wind damage can affect thousands of people a year and can often be costly when it comes to household damage.
You don't need a tornado hurling through town to have considerable wind damage to your home, car, and property. Damaging winds, otherwise known as "straight-line" winds, are winds that are going anywhere above 50 miles per hour. Winds going this fast can do significant damage to old or weak structures. At this speed, winds can do excessive harm to chimneys, shingles, satellites, and much more. These winds can also send signs, awnings, tents, and other lightweight objects flying down the street causing significant damage in other locations. Wind traveling even faster, say 55 to 75 miles per hour, can break limbs off trees, uproot smaller trees and bushes, and even begin to peel the roof off of certain houses. Of course, even faster moving winds, which would be classified as a hurricane or tornado, can flatten trees, send cars flying, and can roll over a mobile home.
Though there is no surefire way to prevent wind damage to your home, there are a few precautions that can be made to minimize or even eliminate threats of wind damage from at least mildly damaging winds. Roofs and windows take the hardest hits from high wind speeds. It is important to know that windows and doors are the easiest entry points for dangerous winds. Be sure to stay away from windows and doors at these times.
If your area is taking a beating from the wind or is expected to soon, you should take the following steps to prevent wind damage:
Make sure all windows are locked shut and any openings exposing your home are sealed.
All storage sheds, doghouses, trampolines, or other large objects on your property should be secured safely to the ground.
Any smaller objects outside (rakes, gardening tools, etc) should be taken inside to prevent damage to your home.
Park your car in a garage, if you do not have a garage and need to park outside, do it far from any large trees or objects that could become flying debris.
Of course, making sure your home is properly insured for wind damage should be done long before storms occur.
If you want to be extra cautious in securing your home in case of a windy emergency, you could:
Install wind shutters, otherwise known as hurricane shutters. These shutters keep you and your family safe from shattering glass and debris that could fly in during a wind storm.
For doors, it's best to use hefty bolts to secure your door at the hinges. Unfortunately, most standard door bolts are heavy-duty, so it would be wise to install stronger bolts to prevent doors from swinging open or falling off entirely.
Make sure shingling on your roof either meets or exceeds the local building code. Shingling coming loose is the most commonly reported wind damage. It is important to check beforehand that your shingling is not too old or weak and is sealed tightly to your roof. Failing to check shingling could come back to be quite costly in the event of a windstorm!
All in all, when it comes to wind damage its best to be over prepared rather than under prepared. Being cautious and properly prepared for wind damage could save you lots of time, trouble and money in the future. In any circumstances where preparation fails, All Star Plumbing and Restoration is there to help! Contact our wind damage emergency restoration team any time, 24 hours a day. We'll do a full assessment of the wind damage, contact your insurance company, and coordinate all the restoration and repairs to bring your home back to it's original beauty.