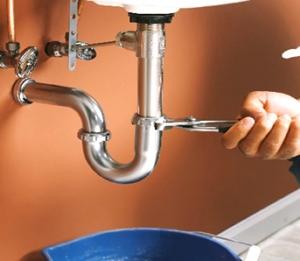 Clogged drains or drain line stoppages in your home can start from a small problem and quickly build up to become an issue that needs to be dealt with immediately. Whether it is a clogged drain or a broken faucet, All Star Plumbing & Restoration can send one of our certified professionals to your home to inspect and fix any drain line stoppages you may have throughout your home, preventing future clogs in doing so.
Drain line stoppages can clog your kitchen sink, bathroom sink, toilets, showers or tubs, and your main sewer line. In most cases, determining a clog is not a difficult thing to do. If any of these drains become backed up and are unable to empty and drain out water effectively, you know you have a stoppage in your drain line. In the event of such a thing, you can contact All Star Plumbing & Restoration Services and we can fix any and all drainage issues. If you notice that all or most of your fixtures seem to be ineffective and easily get backed up, then you most likely have a clog in your main sewer line. Another way of determining a main line clog is if your fixtures have strange reactions with each other. For example, if you flush your toilet and your shower becomes backed up, then you probably have an issue with your main sewer line.
Drain line stoppages can be caused by a number of issues. Bathroom sink drains often become clogged with toothpaste or hand soap. In this case, the drainage may be slow and delayed. Kitchen sink drains often get backed up due to food remnants, grease, or soap, slowing or stopping drainage completely. Garbage disposals are strong but not invincible, be wary of what you put down there to avoid having to deal with a clog. Toilets often get drain line stoppages when things are flushed that shouldn't be, or the septic tank is full.
In a main sewer line, outside deterrents are most often the primary cause in stoppages. One of the most common factors that lead to these blockages are tree roots. Tree roots can venture undetected and grow until they clog your drain completely or destroy your pipe system. Debri and built up sludge can also contribute to main line stoppages. Over time, pipes can crack, sag, and break, letting in dirt that clogs your main line. If your piping was not installed correctly the first time, it is much easier for sludge to build up and clog your pipes over time.
Unfortunately, these drain line stoppages occur more often than we would like them to, and fixing it is dirty work. If drains or lines are unclogged improperly, the result can be costly and regrettable. The best thing to do is contact All Star Plumbing & Restoration drain line stoppage services to ensure your piping and drains are properly taken care of. All Star Plumbing & Restoration can inspect and restore piping throughout the Boise/Meridian area using a unique set of skills and tools to ensure you won't have to deal with clogged drains in the future.