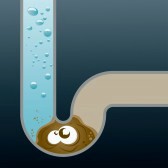 Drain and sewer pipes often get clogged for a number of various reasons. When these clogs occur, any sinks, toilets, or tubs become unusable. Whether the clog is from misuse or gradual buildup, contact All Star Plumbing & Restoration Jetting Drain Line Cleaning and we can assist you in cleaning out your pipe and drain system.
With our certified professionals and high pressure water-jets, All Star Plumbing & Restoration can assure any household a clean and unclogged drain lines. Drain lines clog most often due to grease, sludge, and tree roots. These blockages greatly hinder the functionality of all the drains in a household. Most plumbing services offer the limited use of snaking to unclog drains, while we offer the much more advanced method of using water-jets.
High pressure water-jets are an efficient, expedient, and economical method of cleaning and clearing pipe blockages. This innovative technology guarantees complete and detailed cleaning of your draining system. These high pressured jets clear obstructions and block out tree roots impeding into the pipes. Unlike snakes, water-jets can be used from a distance, meaning they are able to unclog blockages that lie deep into your pipe system. Jetting drain lines don't only clear out blockages, they also clean out the entire system, preventing clogs from occurring in the near future.
The water-jets we use are very effective and labor-saving. These compact, portable jet systems perform at a much higher rate than snaking or cable machines. Snaking can only be used at a certain distance, while cable machines simply drill a hole through the sludge rather than clear it completely. A high-powered engine allows the water to cut through sludge with a minimum loss of propulsion. Jetting drain line cleaning uses a durable hose fitted with a specialized nozzle to produce a very concentrated, high powered, stream of water. This water stream quickly clears out the blockage and thoroughly cleans the pipes.
Our experts at All Star Plumbing & Restoration first inspect your drains and pipes to find the blockage and the cause. They use this knowledge to set the water-jet to a fitting setting, taking into account the width of your pipes as well as the content of the debris blocking them. All Star Plumbing experts then direct high powered streams of water at the clog. The powerful force of the jets send the debris down the pipeline, clearing out your drains and preventing future problems as well.
All Star Plumbing & Restoration recommends jetting drain line cleaning once or twice a year to prevent costly damages that could occur if these problems are ignored. If you fear you have a blocked drain or clogged pipe, contact All Star Plumbing & Restoration jetting drain line cleaning and schedule an appointment convenient to your schedule and we will gladly assist anyone throughout the Boise/Meridian area. All Star Plumbing & Restoration works in both commercial and residential areas and is more than eager to help you or your business with all of your plumbing needs.