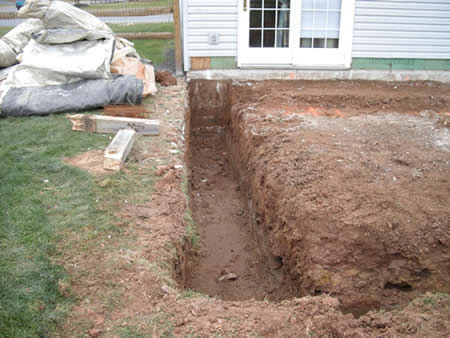 There are many home projects that offer the rewarding experience of being able to do it yourself. Among other things, DIY home repairs can save you money, provide you with a learning experience, and award you with a sense of gratification. Home excavation, however, is certainly not a project to take on yourself. Excavating a property has a small margin of error and if done improperly can leave you with thousands of dollars in repairs.
If not done correctly, excavating your home could cause a large number of damages to your home's foundation or piping system. If soil is removed from certain areas, water could be freed and let into your home's foundation, costing thousands. If you attempt to excavate without knowing where your home's piping is laid, you could break or severely damage a water or sewer pipe, causing a costly cleanup as well as possible sewer or water damage to your home's interior or exterior.
Excavating improperly can also lead to cave-ins that can cause potential injuries. In many states, there are also certain laws and construction standards that must be followed for safety purposes. Like many plumbing or restoration services, excavating services should be left to trained professionals like the ones here at All Star Plumbing.
There may be several reasons one would want to excavate a property. When it comes to water piping and sewer systems, All Star Plumbing & Restoration will excavate your property properly. At All Star Plumbing & Restoration, we have the necessary equipment and highly skilled employees specialized in excavations that can do the job right. Not only can we excavate your property in a timely manner, we can also install water piping and sewage systems at a cost-effective rate! Contact All Star Plumbing & Restoration excavation services and we can assure a safe, effective excavation throughout the Boise/Meridian area!