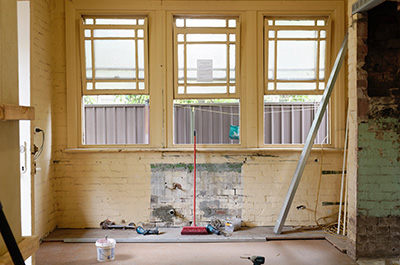 Often to make additional improvements on your home, some things must first go. There could be a number of reasons why you may want to start a demolition project. Whether you want to expand a room in your home, take out a rusted shed to maximize yard space, or completely refurbish your old garage, nearly every home remodeling project begins first with demolition. Demolition can be a laborious, time-consuming, and dangerous task that many homeowners do not possess the skill set or the tools to complete. There are numerous concerns regarding safety, finance, and lack of experience that show why hiring a professional is the best route to take when considering a demolition project.
Budgeting
The first major obstacle when considering a demolition and remodeling project is the budget. The demolition and cleanup can costs thousands of dollars on your own, and that's before the remodeling even begins! Between time, preparation, renting tools, and clean up, you could see your savings begin to diminish in no time. The time it may take to complete a demolition is another factor, as doing such a large project can take days, even weeks to finish. If time and budget is an important issue to you, contacting professionals is more than likely your best route.
Dangers
There are many expected and unexpected dangers that accompany a demolition project of any kind. The most common danger would be the process of attacking large, weak structures that could often fall collapse unexpectedly and cause injuries. Chemicals released in the demolition process are another factor, dust from dry-walls or fumes from paint can restrict your seeing and breathing, causing possible abnormalities in your respiration system. In addition to these risks, accidentally cutting into electrical systems or wiring can potentially give you quite the shock!
Inexperience
Demolitions of any kind take extensive experience to tackle properly, as a lot can go wrong during the process. If a mistake is made, you could put yourself in great danger or destroy parts of your home you never meant to. There is a lot more to demolition than a sledgehammer and some safety goggles. Without the necessary know-how or access to the most suitable tools, any demolition project becomes bound for failure. If you were to take the wrong chunk out of wall and destroy a supporting beam, an entire room could collapse. If you are not completely sure where you're piping system and electrical system runs through your home, you could end up having to pay unplanned expenses in water damage, re-piping, and more.
The Unexpected
Often during demolition projects, the unexpected may occur. digging into walls, roofs, or flooring is digging into parts of your home that you just cannot see. In older homes, your roof may have more layers than you had prepared for. Certain home fixtures may be hooked up to various parts of your home that you were unaware of. Of course, a professional will not be able to determine each and every issue beforehand, but will be able to better tackle the obstacle and stop a small issue from becoming a major detriment in the demolition plans.
All in all, without proper preparation and extensive experience, demolition projects can be executed poorly and can lead to costly fixes and risks to one's personal health. With a project as serious as demolition, it is best to contact the professionals to make sure the job gets done the right way. Contact All Star Plumbing & Restoration demolition services if you are in the Boise/Meridian area and we will handle your home project with caution and care and even help you remodel your home when you're done! We can even give you a hammer yourself and let you take a few whacks at those cabinets you always hated!