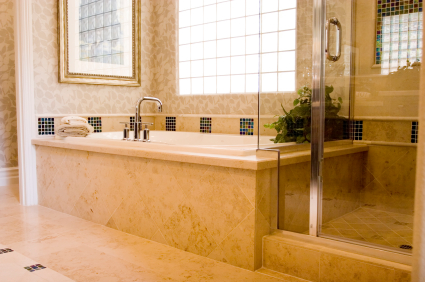 At first glance, remodeling a home or business can be an overwhelming task. Some people may want to knock out walls and expand while others may want to repaint and refurbish. When remodeling commercial or residential spaces, it can be extremely difficult to even know where to start and can even discourage some from the project entirely. That's why All Star Plumbing & Restoration offers plenty of services to aid those looking to remodel their home or business. Regardless if it's a business or residence, remodeling service is an effort that can greatly increase a space's value, functionality, and style.
A remodeling service will require the assistance of trained professionals, especially when it comes to plumbing. When remodeling a kitchen or bathroom, for example, pipes and fixtures may need to be moved, removed, or readjusted. In fact, pipes may need adjustment or replacement in near every room that is remodeled, as piping typically runs through the length of an entire room, whether they are carrying waste away from the home or water to a faucet.
Whether its relocating pipes, removing pipes, or adding pipes, these types of installments or services are not for an everyday handyman. The margin of error is slim when dealing with water or sewer fixtures and pipes, as one mistake could lead to many more down the road or just prove to be faulty from the start. Though it may seem nice to do it yourself and save a couple bucks, mistakes made in installments could easily cause extensive water damage and become costly in both the long and short run.
The setup of piping and related fixtures are best left to certified professionals. At All Star Plumbing & Restoration, our team of experienced handymen have the required know-how and extensive experience in all forms of plumbing and piping. All Star Plumbing & Restoration is a reputable, respected company that works closely with customers to fulfill their needs.
In addition to plumbing services, All Star Plumbing & Restoration offers many other services that can come in handy when remodeling a home or business. Our hardworking employees have a wide range of abilities and are always eager to do the job and do the job right. When it comes to remodeling, we can assist in the tearing down process as well as the fixing up process. Among others, we offer demolition and excavation, and can remove your carpets, trees, and garbage. We can help you build as well, by offering painting, piping, restorations of all sorts, and the installation of heated floors, toilets, showers, sinks, dishwashers, and much more.
Remodeling a home or business isn't nearly as stressful when you have a reliable company by your side every step of the way. Whether its simple plumbing, installing gas lines, or removing tree stumps, you can rely on us. Contact All Star Plumbing & Restoration remodeling service if you are in the Boise area and are looking to recreate your home or business.