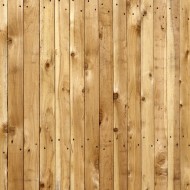 When it comes to fencing, wooden fences provide a more natural, serene border surrounding your home, rather than bleak plastic fencing that wears and breaks easily. Wood fences can keep your dog in and stray animals out and also has a lasting effect on the overall appearance on your home. Taking this into account, wood fences can age and rot. With proper care, wooden fencing can last years! Exact dates depend on the type of wood, where spruce and pine wood could last around a decade, with cedar wood lasting up to thirty years. Consistent fence restoration and maintenance is pertinent in having a long lasting fence. For example, if the fence is treated, pine and spruce fences can last over twenty years, and cedar fences can last over four decades. Given these facts, spending the time and money to properly care for your fence is more than worth it in the long run. Just one of the many services we offer, you can contact All Star Plumbing & Restoration fence repair and we can repair any damages to your fence! Take the following steps of maintenance and fence repair to make sure your fence stands tall for years to come!
1. A helpful initial step to take is to make sure the top of your fence is not flat. The top of your wooden fence should be angled in some way to reduce water from sitting atop and soaking into the wood. This type of fence repair is important because over time, this precaution will prevent rot.
2.Staining your fence can add years of life to your home's border. In doing so, try to use eco-friendly products. Not only does purchasing these products reduce harm to the environment, but the natural products help the wood last longer. Staining essentially adds a protective covering to your fence, making it harder for the wood to deteriorate over time. Staining your fence will give your fence a more natural, wood-like color. Staining your fence is easy, just apply the finishing with a brush or roller and even it out along the fence. It would be smart to re-stain your fence every five years or so, so keep an eye out on the coloring and condition your fence is in.
3. Cleaning the fence regularly is an easy way to avoid rotting and keep your fence shining! When cleaning your fence, start from the bottom. Try not to let yard waste pile up against your fence. It's important to rake leaves and compost away from your fence regularly to prevent rot. If there is just too much compost, you can contact our trash removal services and we will haul away your mess! Any bushes or plants near the fence should be trimmed and treated regularly, as they will damage the fence as they grow. As for the rest of the fence, it's best to power-wash it on a semi-regular basis. Be sure not to be so harsh that you knock a post down or cause any cracks or damage to the wood. The water should be just enough to knock off any excess dirt or stains on the fence.
4. While power-washing your fence a few times a year can be good for it, too much water can be a bad thing. Try not to let the sprinklers in your yard constantly spray your fence. If that happens too often, water can pool up at the bottom of the post and speed up the rotting process greatly. It also helps to have decent drainage in your yard so water buildup near your fence does not occur.
5. Lastly, repairing your fence when it needs it is extremely important. Cracks, knocked over posts, or breaks in the fence can easily spread and end up affecting the whole fence post by post. This is where All Star Plumbing & Restoration comes in. Fence repairs being one of our specialties, we can come repair any damage done to your fence! We are always available, so be sure to contact us for fence restoration and we can restore your fence in no time. If your fence is beyond repair and needs to be taken down, we also offer demolition for fence removal services and can help remodel your residence in the aftermath!