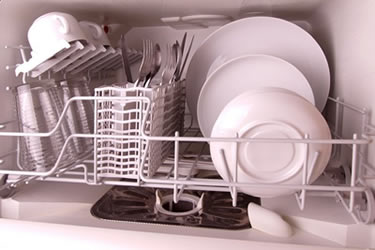 Put simply, dishwashers make life easier. Compared to having to use the sink to wash each and every single plate, bowl, fork, spoon, and so forth individually, dishwashers save you on time and energy by doing the work for you. But like all appliances, dishwashers wear over time and eventually need to be replaced. Sometimes it may be difficult in determining when your dishwasher just needs to be fixed or when it may be time for a new one. When you do need a new one, the experts at All Star Plumbing & Restoration are here to hook up your dishwasher for you!
Some issues your dishwasher could have may be minor and fixable, while others demand a new one. One issue old dishwashers often have are broken door latches. This one is obvious, if your dishwasher door does not latch, then your dishwasher won't even run. If the latch proves to be beyond fixing, you may need a new one entirely. Another issue could be when your dishwasher fails to drain. If your dishwasher is still full of water by the end of its cycle, you should replace it. If left the way it is, water could seep out into your kitchen floor and cause water damage.
Water seeping out of your dishwasher after a longer period of time could lead to rusting on the bottom of the machine. If your machine has any rust on it, it definitely needs to be replaced. An easy way to check for this is by sweeping under your dishwasher and checking for rust flakes. Rust on the bottom of your dishwasher could mean that rust is finding its way inside the machine, which can be hazardous when mixing itself with the plates and silverware you eat with! To extend the life of your dish washer, make sure all food from your dishes is scraped into the garbage disposal where it goes!
Another sign you may need a new dishwasher is if the machine is not working consistently. If it breaks down often or at times has trouble starting, it may be costing you money on your water bill. In these circumstances, it is often cheaper overall to pay for a new one before the old one costs you an arm and a leg. If the lights on the dishwasher quit on you or the motor hums louder than it should, these may also be signs that a new dishwasher is needed. If the lights stop working, it could be a sign of a fried circuit board or fuse that needs to be replaced. In some of these instances, the specific parts can be replaced, while for others it is just best to get a new dishwasher, as when one part begins to fail it is often a sign that others will follow.
Ineffectiveness is the most common reason people decide to purchase a new dishwasher. Old dishwashers over time will be less and less effective at cleaning your dishes, forcing you to run them in the dishwasher over and over or having to clean it by hand. If your dishwasher is loud enough to keep you up at night, it is probably outdated as well. People are often surprised by the vast technological improvements dishwashers have made in recent years. Newer dishwashers are much more quiet and effective, leaving your dishes clean and ready to use without so much as a peep! They also work to conserve and reuse water, keeping your water bill low in doing so!
It may be time to say goodbye to your old dishwasher, but letting it go when it is long past its prime will save you money and the hassle of having to clean dishes yourself. When it's time for a new dishwasher for your home in the Boise/Meridian area, contact All Star Plumbing & Restoration dishwasher services and we can help you hook up your new and improved dishwasher!