Replacing Plumbing During a Remodel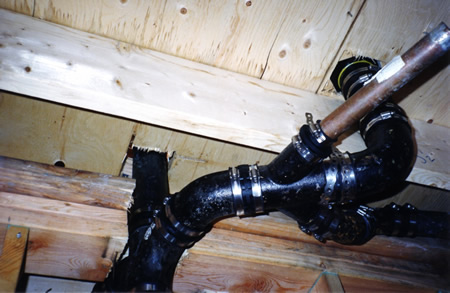 Homeowners usually don't think about replacing their home's plumbing until there is a problem with it. Instead of waiting until that point, another option is to replace the plumbing during a remodel project, such as the bathroom.
Here are three reasons that replacing the plumbing during a remodel makes sense:
1. Age
Replacing the plumbing during a bathroom remodel can be a good idea for older homes that are going to be in need of plumbing upgrades soon. Some homes built before 1970 can still have galvanized steel pipes, which are prone to corrosion. Newer pipes such as copper, CPVC, or PEX pipes are a good replacement for galvanized steel.
2. Flexible Layout
Sometimes a remodel consists of more than retiling and installing a new countertop. If homeowners decide to completely change the layout of the bathroom, replacing the plumbing makes it easier. This way the new plumbing can be installed in order to fit with the design.
3. Ease
During a remodel, the plumbing is exposed, making it easier for a plumber to access it and replace it. If homeowners choose to have the plumbing replaced at a different time, plumbers will have a harder time getting to the pipes, making the process longer and more difficult.
During ypur next bathroom remodel, talk to All Star Plumbing and Restoration about replacing the pipes. We will work you or your contractor to replace and move the plumbing around to fit the new layout of the bathroom.
Different Types of Water Heaters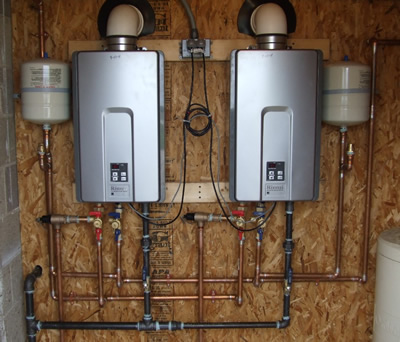 Water heating is the second largest expense in the home, accounting for 14-18 percent of utility bills. The type of water heater in place can have a lot to do with how much homeowners are spending on heating the water. Here is a breakdown of each type of water heater, its pros and cons, and life expectancy:
1. Storage Water Heater
This is the least expensive type of water heater, which is why it is a popular choice. Storage water heaters last about 10-15 years before needing to be replaced. The main issue with this type is that energy can be wasted keeping water in the tank heated to the preferred temperature while it isn't being used.
2. Tankless Water Heater
Tankless water heaters provide a constant supply of hot water. This makes them anywhere from 8-34 percent more energy efficient than the storage water heater. However, the tankless water heater has a limited flow rate, which means multiple uses can stretch it to its limit. Tankless water heaters have a lifespan of over 20 years.
3. Heat Pump Water Heater
With lower operating costs, a heat pump water heater is 2-3 times more efficient than a storage water heater. If homeowners invest in this style of water heater, they could end up saving hundreds a year on their electric bills. This water heater might need to be replaced after 10-15 years.
4. Solar
Solar water heaters are the most expensive type, but they make up for this by being 50 percent more efficient than gas or electric water heaters. Because the sun doesn't always shine, this type of water heater might require a backup system. These water heaters last about 20 years.
5. Tankless Coil and Indirect
These water heaters have lower installation and maintenance costs, but could be an inefficient choice for homes in warmer climates. They last about a decade before needing to be replaced.
Talk to All Star Plumbing and Restoration about installing a newer, more efficient
water heater
. We also offer emergency water heater repair service and maintenance checks.
Flood/Water Damage from Snow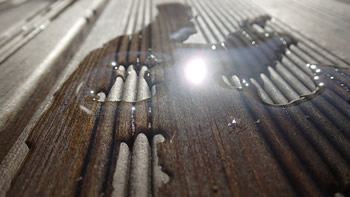 The Boise and Treasure Valley areas already got hit with a lot of snow and rain this winter. This combination can cause winter flooding. This flooding is causing water damage to many businesses and homes. The crew at All Star Plumbing and Restoration can repair water damage in commercial or residential buildings.
All of this precipitation is causing flooding in basements and crawlspaces, as well as leaking through roofs. When water starts to pool or leak through the roof, it can cause costly damages for business owners and homeowners.
Along with a buildup of snow mixed with rain, roofs around the Treasure Valley are plagued with ice dams. These prevent melting snow from draining off. The weight of the ice dam can collapse and damage the roof, as well as let the water start to seep through any cracks or holes in the roof.
As soon as water is spotted in a building where it shouldn't be, call All Star Plumbing and Restoration. While there are many precautions that can be taken to prevent water damage, sometimes Mother Nature has other plans.
The certified technicians at All Star Plumbing and Restoration are trained to evaluate the damage caused by leaks or flooding, and can track hidden moisture as well. They will use special drying equipment to dehumidify the area. If this process is done in time, it can eliminate water damage and mold in the home or business.
The longer water is left to leak or stand in a building, the more damage it can do, and the more it will cost to fix later on. Call All Star Plumbing and Restoration at the first sign of water damage in a commercial or residential building to prevent further damage and mold.
DIY Firewood Rack with Pipes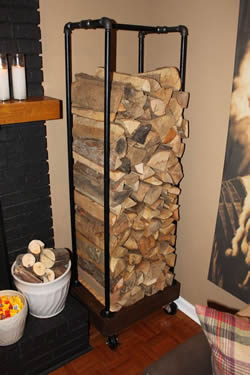 To avoid multiple trips outside during the day for firewood, many homeowners invest in a firewood rack that holds multiple pieces of firewood at a time. These firewood racks can get a little pricey, so read on to learn how to make one yourself using old pipes and a few other items.
The materials needed are:
2x4 lumber
2x4 pine lumber
Drywall screws
Plywood
Brad nails
Walnut stain
Heavy-duty wheel casters
2-inch lag screws
Black spray paint
¾ inch diameter plumbing pipes

4 pieces of 60-inch length
4 pieces of 5-inch length
1 piece of 18-inch length
4 elbows
2 T's
4 Floor Flanges
Tools needed are:
Sander
Circular Saw
Hammer
Drill
Visit this
website
to get the step-by-step instructions along with pictures.
Past Plumbing Newsletters