Benefits of Radiant Floor Heating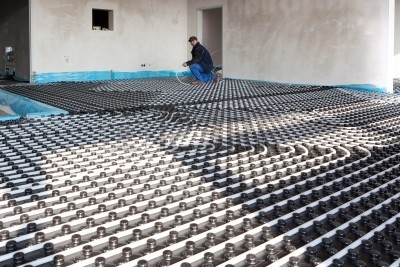 Radiant floor heating is an alternative to more common heating sources. These systems supply heat to the floor, and use infrared radiation to distribute it throughout the room. This type of heating has many benefits over forced air heating, such as:
1. Silence
Furnaces can make a lot of noise when starting and forcing air throughout the house. Radiant floor heating doesn't make noise as it heats the home, letting everyone get a better night's rest.
2. Cleaner Air
Furnaces can kick up dust or pollen that may be trapped in vents or on surfaces, wreaking havoc on people with allergies or asthma. Since there's no air movement with radiant floor heating, the amount of dust and allergens in the home will be reduced, making it easier for everyone to breathe.
3. Energy Costs
Radiant floor heating can be a little costly to install, but it will trim the energy bill by 25%-50%. This is due to minimized losses, which happen when air leaks out of air ducts.
Due to the installation process, it's best to have radiant floor heating installed when a home is being built or during a large remodel. Floor heating also requires certain types of flooring to be used. The material of the flooring has to conduct heat well. This means wood flooring and carpet are not good choices. Some of the best flooring choices are:
Stone
Concrete
Vinyl
Ceramic tile
The type of radiant floor heating the experts at All Star Plumbing and Restoration install is a hydronic radiant floor. This means there is a water boiler heated either by gas or a typical water heater.
Get cozy with radiant floor heating installed by All Star Plumbing and Restoration. Call us today at 208-377-0113 to learn more.
Preventing Commercial Plumbing Problems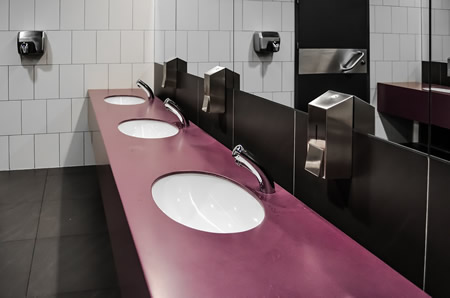 With hundreds of customers or employees using the restroom facilities daily in a commercial building, they take quite the beating. Plumbing problems can shut down a business if they cause a big enough issue. To prevent this from happening, learn about the most common commercial plumbing problems and what to do about them:
Leaks can occur unexpectedly in the pipes, faucets, or other fixtures. Even though faucet or fixture leaks might seem like a small thing, they can end up wasting thousands of gallons of water and the business's money. Some leaks might not be noticeable right away until they start to cause water damage. At that point, the leak will need to be fixed and the water damage cleaned up to prevent mold from growing.
In a commercial setting, people often flush items in the toilet that shouldn't be flushed, creating clogs and potentially overflow. However, sink drains can also become clogged and over flow due to paper, food waste, etc. Besides informing customers or employees of what can and cannot be put down toilets and drains, there's not much a business can do to stop people from clogging these.
Commercial hot water heaters are more complicated than the ones used in residential settings. If the syst stops producing hot water, isn't getting hot enough, or doesn't stay hot for long, there could be an issue that only a plumber can fix.
The best way to prevent any of these commercial plumbing problems is with regularly scheduled maintenance. Businesses need their plumbing to run right for their business to run right. Yearly maintenance of pipes, fixtures, toilets, and more can find and fix small issues before they turn into costly problems later on.
Talk to All Star Plumbing and Restoration about regular
commercial plumbing maintenance
and call them immediately if a plumbing problem is noticed. The faster it gets fixed, the less damage it can do.
The Evolution of the Dishwasher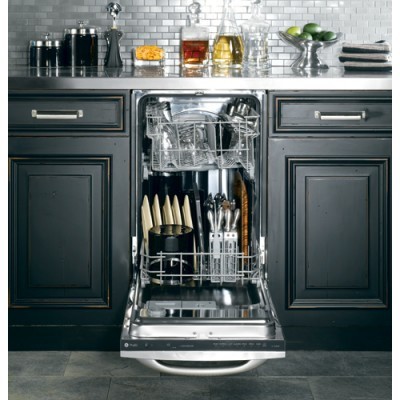 Dishwashers are a luxury that continue to get more technologically advanced. Although they seem quite modern, they actually got their start about 160 years ago. Read on to learn about their invention and how they've progressed to what they are now.
Invention
Back in 1850, Joel Houghton created and patented a small, crank-operated machine built from wood. When the machine was cranked, water would flow through the wooden plumbing and over the dishes. It didn't become a popular idea until it was entered in the World's Fair by a wealthy woman named Josephine Cochrane. She fine-tuned the original idea in 1887 because her servants chipped her dishes.
Upgrades
Dishwashers looking more similar to the type used today, didn't come into existence until 1924. An English investor installed a rack and rotating sprayer, two items that are still used today. Only wealthy homeowners could use dishwashers as this point, because not many homeowners had access to indoor plumbing.
Word War II
Dishwashers continued to be improved and by the 1940's they could not only wash but also dry the dishes. This style would have been more popular in homes but World War II came along halting their rise in popularity. Dishwashers didn't start being seen as a necessary appliance until the 1970's.
Modern Upgrades
Now, dishwashers have pre-soak cycles, trays and racks that can be adjusted to fit items, and more. They can be found in more than 75% of American homes. Everyone can find a dishwasher that fits their needs and kitchen style.
Taking out an old unit or
installing a new dishwasher
can be tricky with all of the plumbing attached to it. The team at All Star Plumbing and Restoration can assist with this and make sure everything gets hooked up correctly to limit the chances of a leak and water damage.
2017 Kitchen Trends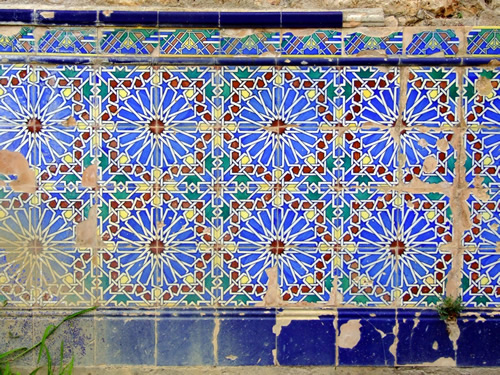 It's a new year, which means new trends to watch for in the kitchen. For those who are planning to remodel their kitchen in 2017, here are the trends that have been spotted so far:
1. Tuxedo
It looks like 2017 is going back to basics with kitchen styles. Trends are featuring color-blocking, like white on the top portion of the kitchen and a darker color on the bottom. The darker color doesn't have to be black though, like a true tuxedo, it could also be a darker color such as grey. People are making the style pop with small accents such as gold cabinet hardware that matches the faucets and light fixtures so it all comes together.
2. Patterned Tiles
Patterned tiles are replacing subway tiles this year. They add color and creativity to a space. There are so many different patterns available, everyone can find a patterned tile to fit their kitchen style. The tiles can definitely add some pizazz if used as a backsplash.
3. Wood Paneling
With a rich color and texture, the new styles of wood paneling won't transport the kitchen back into the 1970's. Wood panels come in many colors, and can be used for backsplashes, walls, and even ceilings. Even used in a small amount, would can completely transform the feel of the kitchen.
4. Hidden Appliances
Most people like to show off the shine of their beautiful appliances, but not everyone feels the same way. There's a new trend of hiding appliances, both big and small, behind what looks like cabinets. These cabinets match the rest of the actual cabinetry, and help to create a less cluttered feel in the kitchen.
5. Automation
Items that turn on and off automatically make life easier. Finally, automation is becoming more integrated into the home instead of just commercial buildings. Automated faucets and lights are just two of the options available.
Before
remodeling the kitchen
and including any of these great trends, talk to the plumbing experts at All Star Plumbing and Restoration. Remodeling can often include moving plumbing or installing new appliances or fixtures, both of which should be done by a professional.
Past Plumbing Newsletters