Repairing or Replacing Leaky Faucets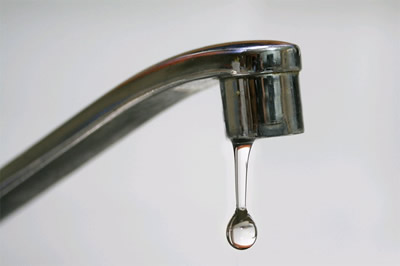 Leaky faucets are not only a nuisance, but can waste hundreds or thousands of gallons in water a year. Some leaky faucets can be fixed easily, but sometimes they need replaced. Deciding which needs to be done depends on several factors.
1. The Issue
The most common issue when it comes to leaky faucets is a faulty stem or stems depending on if it's a single-handle faucet or multi-handle faucet. Water will leak around the handle if a stem is the problem. A replacement stem is fairly inexpensive, averaging $40, so replacing it could be in the homeowner's best interest. The parts in the faucet might also just need tightening or a washer replaced.
2. Age
Faucets are generally designed to last about 10 years. Once they get close to that age, they can begin to develop issues. If a leaky faucet is around 10 years old, it might be best to just replace it. The older it gets, the more repairs it will need, potentially costing the homeowner more than a new faucet.
3. Cost
Generic faucets probably aren't worth the expense of repairing, unless it's a simple and inexpensive fix. They cost little and replacing it would probably be the better option. However, if the faucet is an expensive, high-end style, repairing it is likely worth the money.
A leaky faucet could also be an indication of a much larger issue within the plumbing system, such as damaged water pipes. The leak could merely be a symptom in a much larger problem. Simply fixing the faucet won't solve this issue and could end up costing homeowner's a lot of money down the road.
Whether the faucet needs to be repaired or replaced, or there's something wrong the with plumbing system, the team at All Star Plumbing and Restoration can handle it. DIY plumbing fixes could lead to unintentional
water damage
, so have the team at All Star come out and determine what the issue is and if the faucet should be repaired or replaced.
Laundry Room Plumbing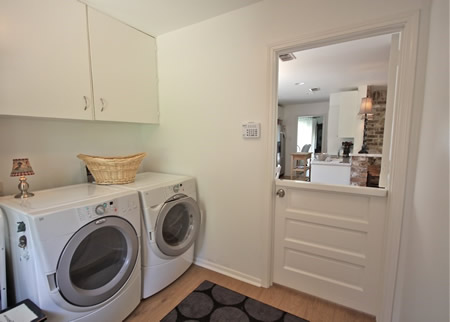 Creating a laundry room involves reworking the plumbing for the washer and dryer hookups, and possibly adding a sink. When designing a laundry room, there are a few things homeowners need to take into consideration.
1. Location
Some people are fine having the laundry room in the basement. However, it might requirement a little extra work bringing the plumbing down to the basement. Placing the laundry room on the upper level can mean less plumbing work. Often, laundry rooms on an upper floor can tap into already existing plumbing for the bathroom or kitchen.
2. Drain Placement
Floor drains are important to prevent water damage. They allow excess water to flow back outside where it belongs if there is a clog. The slope of the floor needs to be taken into consideration, to make sure water heads toward the drain.
3. Shutoff Valve
The water shutoff valve needs to be accessible in case of a leak or another issue. If it's hidden behind appliances and hard to reach, that could end up being an issue.
4. Ventilation
Both the washer and dryer need proper ventilation. This helps keep the humidity down and prevents mold from growing. Generally, laundry rooms are on an outside wall, which makes ventilation easy.
5. Appliances
Some laundry rooms are simple with just a washer and dryer. However, some homeowners like the added convenience of a sink for handwashing items. Adding a sink will require more plumbing work.
Homeowners considering
creating a new laundry room
should contact All Star Plumbing and Restoration. We can assist in creating a design, install or extend plumbing, and help get everything hooked up.
Preventing Water Damage on Hardwood Flooring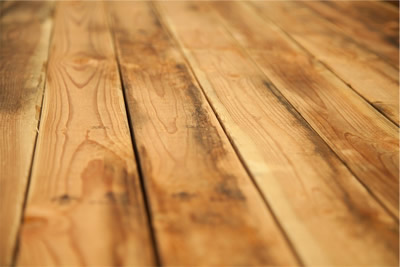 Hardwood floors are a beautiful addition to a home. To keep them beautiful, homeowners need to protect them from water damage. Even small amounts of moisture from reoccurring spills can cause damage over time. Here are a few tips to prevent water damage on hardwood floors:
When any food or drink is spilled on the floor, wipe it up immediately. The liquid from the spill can seep into the wood if left. It could also stain the wood flooring.
If the humidity in the house rises, which often happens during the warmer months, it could begin to warp the wood flooring. Use fans when cooking, open windows and vents, or invest in a dehumidifier if necessary.
Wet items left on hardwood flooring have the ability to damage it. Keep wet shoes off of the hardwood by having indoor and outdoor mats to wipe feet on. Pick up wet rugs, towels or other items as well. If wet items are left on the wood flooring, wipe up any visible moisture as soon as possible.
A huge cause of water damage in a home is appliances and their plumbing. Many appliances in the kitchen use water. This means their plumbing is susceptible to cracks, breaking, and leaking. When this happens, water can pool on the floor, causing massive water damage. Checking appliances and plumbing in the kitchen for any damage can prevent a leak before it happens. One often overlooked appliance is the ice maker in the refrigerator. The water line for the ice maker is often hidden behind the refrigerator and can cause considerable damage before the leak is visible. Be sure to check behind and under the refrigerator periodically for water leaks.
Check to make sure any cleaning product used is made for hardwood flooring. Don't leave puddles of liquid when cleaning.
Water damage, isn't always preventable, which is why All Star Plumbing and Restoration offers water damage dry-out services. Contact All Star right away if water damage or a water leak is spotted. The faster we can get to drying it out, the more minimal the loss.
Unique Toilet Paper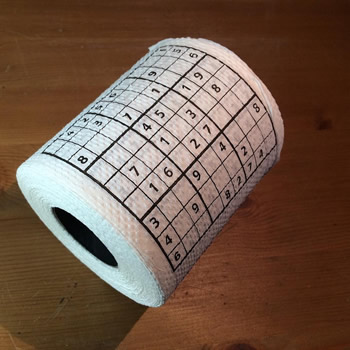 When it comes to toilet paper, most people only care what ply it is. However, for those who are bored with plain, white toilet paper, consider spicing up the bathroom with these unique toilet papers:
Instead of reading a book, play some Sudoku while taking care of business. Each piece has a new puzzle to stump guests and keep them occupied.
There's a variety of colors available for people who like to switch things up. Coordinate colors for different holidays to keep the bathroom festive.
Learn a new skill with the help of origami toilet paper. It's both pretty and useful.
Glow in The Dark Toilet Paper
Some people prefer to keep the lights off when using the bathroom at night. Glow in the dark toilet paper makes that easier!
Some people do their best thinking in the bathroom. Keep a pen near the toilet just in case anyone has some wise words to write down.
Get some fun toilet paper to go with the unique toilet All Star Plumbing and Restoration installed.
Past Plumbing Newsletters