Cost Effective Remodels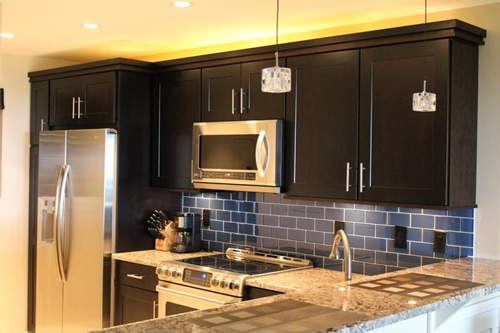 Two of the best rooms to renovate in a home are the kitchen and bathroom. These are more likely to increase the home's value, making them cost effective when homeowners choose to sell the home later on. Here are some kitchen and bathroom remodel ideas that will be beneficial come resale time:
Kitchen
Potential buyers love kitchens with updated appliances. They look better and won't need to be replaced in the next couple of years. Even better is a kitchen with all major appliances such as a dishwasher, refrigerator, microwave, and oven. Dishwashers are a luxury item that many people are willing to pay a little extra to have. All Star Plumbing and Restoration can assist with the installation or upgrade of a dishwasher.
Tiny kitchen sinks are hard to work in when washing dishes or prepping food. Old, stained and chipped sinks are also a turn off to potential buyers. Upgrade the sink and its faucets to increase usefulness and attractiveness. Consider moving it to a new location in the kitchen as well if the kitchen needs a better flow.
Bathroom
Homes need to have at least one bathroom with a shower-tub combo. Bathtubs are critical for families with children or the elderly so replacing one shower with a combo is a good move for homeowners in family-friendly areas. If the current shower or bathtub has chips or cracks, All Star Plumbing and Restoration can determine if these can be repaired or if the shower or tub needs to be replaced.
Replacing stained or broken fixtures will improve the overall look and feel of the bathroom. If hard water is the culprit of the fixture stains, ask All Star Plumbing and Restoration about installing a water softener to protect the new fixtures.
When it comes to renovating, any plumbing should be left to the professionals. That way there's less of a chance for broken pipes and water damage.
Summer Plumbing Problems and Solutions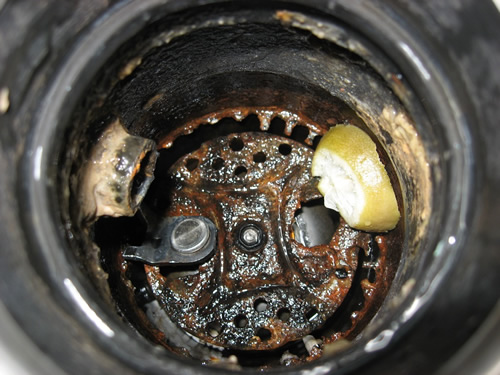 Summer is moving in, which means so is a whole new set of potential plumbing problems. Get ahead of these problems by having everything serviced and checked for issues. Read on to find out which appliances might need a little extra attention this summer.
1. Water Heater
People generally become more active during summer. This will mean more sweat, which leads to increased showers and laundry. Older water heaters might have trouble keeping up with the increased usage leaving you with cold showers or a damaged water heater. If the water heater is getting up there in age, be sure to have it serviced and possibly replaced.
2. Toilets
If the kids are home more during summer vacation, or family comes to visit, the toilet will be getting a lot more use than normal. Not only could this lead to clogs, but worn out handles, or even broken seats. If the toilet starts to see some wear and tear this summer, or gets increasingly clogged, call the experts at All Star Plumbing and Restoration. They can find out what is causing the clogs and replace the toilet if needed.
3. Garbage Disposal
Backyard BBQs and family cookouts can produce a lot of food waste. Learn about what food waste can and cannot go down the garbage disposal before cooking this summer. This knowledge can prevent clogs and a broken disposal. If any garbage disposal problems arise, All Star Plumbing and Restoration can diagnose and fix the issue right away.
If any of these three appliances are old or getting worn, be sure to have All Star Plumbing and Restoration inspect them before summer hits and usage increases. It could save hundreds of dollars in an emergency.
Leaking Washing Machines and Water Damage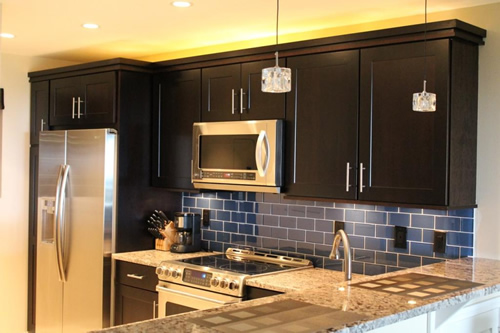 Finding water on the floor around the washing machine is very concerning. Standing water in the laundry room could lead to severe water damage and mold growth if not taken care of right away. Before dealing with the water damage, the problem causing the leak needs to be identified and repaired. Unfortunately, a leaking washing machine could be caused by any of the following issues:
1. Clogged Hoses
If a clog is preventing water from properly draining, it could overflow onto the floor. Not all clogs are easy enough for a DIY fix, so call All Star Plumbing and Restoration for help. Along with clogs, the drainage hoses can become loose, or split from old age.
2. Drain Pump
The drain pump pushes water out of the washing machine. If it is damaged in any way, water will start leaking out of it and onto the floor. Completely replacing the piece is the easiest fix for this issue.
3. Detergent
Operator error can also cause the mashing machine to leak. If too much detergent is used, or the wrong type, water and soap will pour out during the wash cycle. Carefully measure out the correct type of soap to prevent an overflow.
4. Door Seal
Front-loading washers can develop door seal issues with heavy use. They can develop holes and cracks that let water leak out under the washing machine. Luckily, door seals are an easy and fairly inexpensive replacement.
5. Boot
The small rubber seals that can be seen on the agitator shaft break down over time. This is a common occurrence that causes water to accumulate under the washing machine when in use.
No matter the cause, washing machine leaks are something to keep an eye out for. If this water is left, it can seep into the flooring causing extensive damage. At the first sight of water, call All Star Plumbing and Restoration. The faster we can get to drying it out, the less chance there is for damage and mold.
DIY Sprinkler for Kids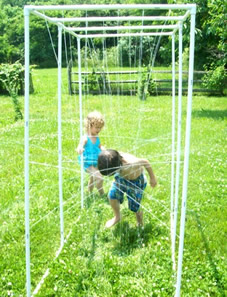 As the weather heats up, parents are looking for ways to keep their kids entertained while also keeping them cool. Sprinklers are a great option for entertainment and cooling down on hot summer days. Instead of buying a new one, make this fun sprinkler with a bonus slip and slide option:
Supplies Needed:
(14) 1/2″ – 5ft long PVC Pipes – two extra just in case
(3) 1/2″ PVC elbows (non-threaded)
(5) 1/2″ – Side Outlet Elbow (non-threaded)
(8) 1/2″ – PVC Tee Connectors (non-threaded)
(1) Metal Hose Connector (female)
(1) 1/2″ PVC Ball Valve
(1) 1/2″ Threaded Coupling
PVC Cement
PVC Cleaner
Handheld Drill with drill bit
Hacksaw
Tape Measure and pen to mark your cuts
(2) 1/2″ Hose Extenders
Landscape Fabric Pins
The pipes will need to be carefully measured before being cut with the hacksaw. After cutting, they need to be quickly glued together. When drilling, makes as many holes as desired. The more holes, the more water will spray out.
Once it is all put together and connected to the hose, throw a tarp down underneath of it for a slip and slide option. Or, put it on the concrete and let the kids ride their bikes and scooters through it.
To see how to measure out the cuts and the layout, click here.
Make the sprinkler easy to hook up with the help of a hose bib. Ask All Star Plumbing and Restoration about installing one today.
Past Plumbing Newsletters