Avoid Using Drain Cleaners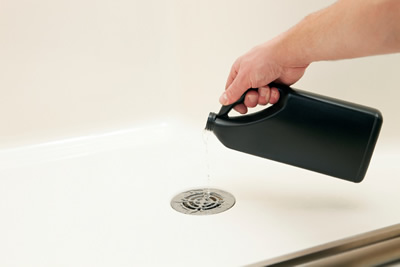 When a drain becomes clogged, most people reach for drain cleaner to resolve the issue. What they don't know is that drain cleaners can cause damage to the plumbing, and may not actually help fix the issue. Here are a few reasons to avoid reaching for the drain cleaner:
1. Damaged Plumbing
The chemicals used in these cleaners can damage pipes from the inside out, and can even damage the finish on faucets or enamel on sinks and bathtubs.
2. No Solution
Not all drain clogs are due to a build-up in the drain. There could be a larger issue in the sewer line that chemical cleaners won't be able to resolve.
3. Toxicity
Many cleaners have high toxicity levels which can irritate the person pouring them down the drain. Those chemicals be left behind as well in the form of fumes that aren't healthy to breathe.
Instead of using chemical-based cleaners, try some other ways to dislodge a clog like these:
Sink plungers are smaller than those used on toilets and are specifically designed for sink clogs. Try using a plunger to dislodge the clog first.
Vinegar and baking soda can be mixed together and poured down the drain. Let it sit in the drain for at least half an hour before flushing with hot water. This can make slow-draining sinks drain faster, but isn't great at busting through large clogs.
In bathroom drains, hair is a common culprit of drain clogs. Bend a wire hanger to fashion a tool for pulling out hair. If the clog is close enough to the surface, this should work to get it out.
For harder clogs, issues deeper in the plumbing system or if you just aren't all that into cleaning out your clogged drain, call the experts at All Star Plumbing and Restoration.
Insulating Pipes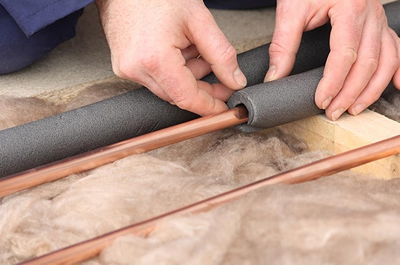 Before colder weather hits, it's time to talk about insulating pipes. Many homeowners insulate their hot water pipes to keep heat from escaping, but they should also think about their cold-water pipes to prevent freezing.
In many homes, cold water pipes run through less insulated parts of the house like basements, garages, and crawl spaces. Because these areas have a harder time holding heat, it allows for the possibility of frozen pipes if the temperature goes low enough.
Wrapping cold water pipes helps them maintain the heat energy of the water passing through them. It also has the ability to alleviate condensation from the cold-water pipes. Proper insulation will keep air and its moisture from coming into contact with the pipe's surface, preventing condensation from forming and causing water damage.
While insulating pipes prevents freezing, it can also reduce heat loss and increase energy savings in the process. Insulation can raise the water temperature 2-4 degrees, which lets homeowners lower their water temperature setting on the water heater. The water heater won't have to work as hard and hot water comes faster, decreasing waste.
Insulating pipes is something homeowners can do themselves with a few tools and some insulation from a hardware store. However, All Star Plumbing and Restoration is available to help anyone who doesn't feel comfortable doing it themselves or while we work on a water line issue.
Those who are in the process of building a new home should consider having the pipes insulated as construction is happening instead of going back later to do it themselves. Talk to All Star Plumbing and Restoration for more information about the benefits of insulating pipes.
History of the Clawfoot Tub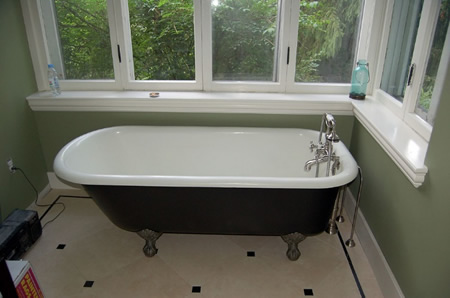 Clawfoot tubs are timeless pieces that can elevate any bathroom. They are synonymous with luxury, elegance, and indulgence, but how did that come to be? Read on to learn about their history.
The first bathing tub similar in design to the clawfoot tub was discovered in Crete. This area contains some of the earliest plumbing systems developed. After the collapse of the Roman Empire, bathing and sewer systems were lost until the 19th century. Once European cities developed underground sewage systems, bathing became the norm again.
This is when the history of the clawfoot tub begins. The clawfoot aspect of the tub was copied from other styles of furniture created at that time. Holland took inspiration from a Chinese style of a dragon clutching a pearl to create the ball and claw in the 1700's. The very first clawfoot tubs were made of tin or copper, and had an oak trim. From there they evolved and the clawfoot tub design found its way to America by way of England.
After their peak, the Art Deco movement moved in with pedestal tubs that were much easier to clean than clawfoot tubs. This was a draw for many and soon clawfoot tubs waned in popularity.
Now, with many wanting to add a touch of elegance and old-fashioned charm to their bathroom, the clawfoot tub has become a vintage and much sought-after piece. With modern developments, there are a wide variety of clawfoot tubs available.
Clawfoot tubs have many different styles of feet including paw, cannonball, armada, and the original ball and claw. They also come in a range of finishes to match the bathroom décor. Three of the more popular shapes include:
Roll Top: this is the classic style with a flat rim
Slipper: one side is raised higher than the other to allow for more reclining
Double Slipper: both ends are raised so the user can relax on either end
No matter the style chosen, homeowners will likely need their plumbing rearranged to work with this magnificent tub. All Star Plumbing and Restoration can assist with this and other bathroom remodeling projects.
Halloween Bathroom Decorations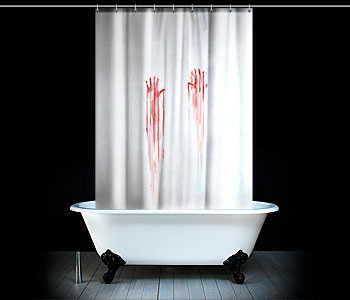 For those who love all things Halloween, decorating the entire house has never been easier. Deck out the bathroom with these spooky ideas:
1. Black Lights
Throwing a Halloween party? Replace the normal lightbulbs in the bathroom with black lights. Then use some washable black light markers to write a spooky message on the mirror.
2. Bloody Bath Mat
There's a bath mat designed to turn red when someone steps on it with wet feet. It can help turn the bathroom into a bloody crime scene.
3. Spider Invasion
Know someone who is afraid of spiders? Give them a fright by hanging DIY spider egg sacs from the bathroom ceiling and placing plastic spiders throughout the bathroom. The egg sacs are easy to make with just a few basics like a foam egg, white batting, white stocking, and plastic spiders.
4. Witch's Cauldron
Turn the bathtub into a witch's cauldron with some dry ice. It's not as scary, but will make a cool visual.
5. Bathroom Intruder
Cut out a piece of cardboard to look like a figure and put it behind a light-colored shower curtain. Guests won't be able to look away as they use the restroom.
Have fun decorating the bathroom this Halloween whether it's scary or cute! If the Halloween party ends up
clogging a drain
or flooding a toilet, All Star Plumbing and Restoration is here to help.
Past Plumbing Newsletters