Repairing or Replacing Leaky Sink Faucets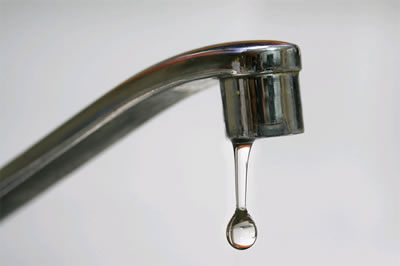 Leaky faucets are not only annoying, but very wasteful. A faucet that drips once every second can end up wasting five gallons of water in a day. That adds up over time. Some leaky faucets can be fixed, while others might need to be replaced to completely fix the issue.
Generally, the leaking stems from general wear and tear that begins to take its toll on parts. Sometimes improper installation or lack of maintenance can also cause the leaking. Here are some of the common things that lead to a leaky faucet:
1. Worn Out Seals
Over time, sediment can accumulate causing both the inlet and outlet seals to get worn down. Without properly functioning seals, a leak will form. Seals can be replaced to fix the issue, but regular cleaning by a plumber can prevent sediment build-up in the first place.
2. Washers
The most common cause of a leaky faucet is a worn-out washer. The washer is forced against the valve seat, creating friction, which wears it down. Washers can be easily replaced to fix the issue.
Another washer issue is improper installation. If it isn't properly installed, or is the wrong size for the faucet, the faucet will begin to leak. Having a plumber assist with the washer installation can prevent this problem.
3. Damaged O-Ring
Part of a cartridge faucet make-up includes a stem screw that has a small disc (the O-ring) attached to it. With use, the O-ring will begin to wear out, creating a drip near the handle, instead of the spout. A new O-ring can solve the leak.
4. Corroded Valve Seat
Between the faucet and spout is the valve seat. Water sediments can accumulate on this, causing corrosion that leads to leaking. Regular cleaning of the valve seat can get rid of the sediment build-up that causes the corrosion.
5. Broken Plumbing
Sometimes the worst happens and a pipe breaks. In some situations, this can cause the faucet to leak. Have a plumber check the plumbing is this is suspected.
Most of these problems can be fixed with a simple repair. However, if the faucet continues to have issues, or has been neglected for a long period of time, a total replacement may be necessary. Replacement is generally the last step, and can be avoided by fixing smaller issues as they arise.
Dealing with Frozen Toilet Pipes
Toilets have two separate sets of pipes, the drain pipes and the supply pipes. Both can freeze if the temperature drops low enough, causing the toilet to be unflushable. Here is what can happen when both of these sets of pipes freeze and what to look for:
Supply Pipes
Out of the two, these are more likely to freeze. The frozen pipes might not be noticeable until after flushing the toilet multiple times. It will be able to be flushed once, but after that the bowl won't refill, causing the water level to be lower. If this starts to happen, call All Star Plumbing and Restoration to get it working properly as soon as possible.
Drain Pipes
If drain pipes are frozen, anything that gets flushed will come back into the bowl. Do not keeping attempting to flush it as it could cause a toilet overflow. This one could be harder to identify because homeowners might assume it's just another clog. If flushing isn't working and neither is plunging, consider that the pipes might be frozen and call All Star Plumbing and Restoration instead.
While there are many articles giving tips on thawing frozen pipes, attempting to thaw pipes oneself can be dangerous and end up damaging the plumbing further. Since toilet supply and drain pipes are harder to access, it's best to call in the professionals. Also, waiting for the pipes to thaw naturally can leave the toilet unusable for several days and allow the pipes to burst.
When the temperature drops and the toilet starts acting up, it's very possible that the pipes have frozen. To prevent burst pipes, toilet overflows, and potential water damage, call All Star Plumbing and Restoration right away. We even offer a 24/7 emergency line for customers when something like this pops up at an inopportune time.
Repurposing an Old Toilet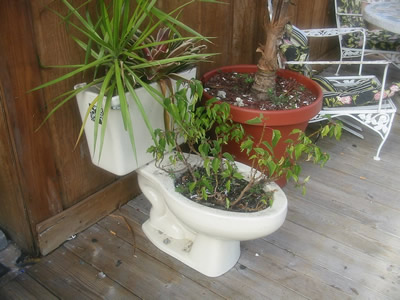 Once a toilet has lived out its life, that doesn't mean it needs to be thrown away. There are quite a few ways to repurpose, reuse, or recycle old toilets. Here are some ideas:
1. Crush It
Toilets can be crushed up and used in concrete for driveways and pathways, or used in rock areas in the garden. If the owners have no use for it, they could also call the local waste management company to see if they might have a use for it in concrete.
2. Planter
Looking for more places to plants some flowers? An old toilet can be perfect. The bowl and tank can be used as planters. Make an entire bathroom-themed garden by also using an old bathtub or pedestal sink as planters as well.
3. Animal Refuge
Toilet bowls can make the perfect bird bath or water bowl for pets. Just make sure to thoroughly clean it beforehand.
4. Waterfall
Have it installed into a water feature in the backyard, like a waterfall and pond combination. With a little paint it could be completely transformed, and nobody will know it's original purpose. All Star Plumbing and Restoration can assist with the plumbing for such a project after removing the toilet from the bathroom.
5. Donate
Depending on the reason for getting rid of the toilet, it could be donated to others in need. If it's not broken or the issue is repairable, consider taking the toilet to Habitat for Humanity or another similar organization.
Toilets have quite a long lifespan and can be a large investment. Don't let that investment go to the dump. Reuse it in one of the ways listed above or find a way to donate it. When it's time to replace an old toilet, the team at All Star Plumbing and Restoration can handle the entire process.
2018 Bathroom Trends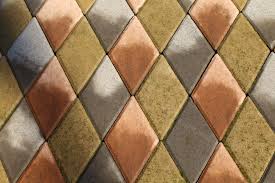 Each year brings with it new trends to incorporate into the bathroom when it's time to remodel. Let's see what 2018 has in store:
Brass lost its popularity long ago, but it looks like it is making a comeback. It brings a warmer tone to the bathroom, making it feel less clinical and cold. Try out some brass bathroom fixtures and see how they can transform the bathroom.
Get rid of those traditional white subway tiles and bring in something more unique. Different shapes and textures will reign supreme in 2018. Also, don't forget to go with a fun color. While the rest of the bathroom can stay neutral, these creative tiles can be used to make a bold accent statement.
Hand-carved stoned sinks will be making a huge debut. Another trend is seeing them used as vessel sinks. Vessel sinks have been popular for a while, but combining them with a stone element creates an organic feeling.
Every room is getting more technologically advanced, and that includes the bathroom. One of the most important pieces is the toilet. High-tech toilets will be seen more often. They can have seat warmers, automatic lid openers and more. Also, take the best shower ever with a digital temperature setting, or integrate new lighting effects.
Luxury and a spa-like feeling is still in, just without the big space. Keep the soft-textures and muted lighting, but include more shelving, and floating vanities. This makes the space feel larger, but still relaxing and spa-like.
Looking to implement some of these trends in 2018? Talk to All Star Plumbing and Restoration about renovating the bathroom.
Past Plumbing Newsletters