Why Hire a Professional Painter?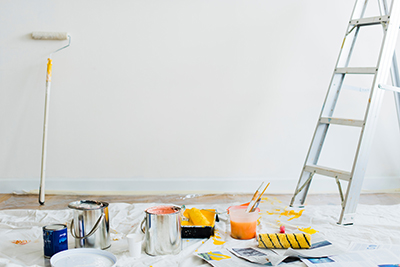 If you're looking to update your color scheme, or need restoration painting completed, you may be debating whether to spend the money for a professional painter, or just do the job yourself. While most people are capable of painting a room, most people aren't able to get the same level of professional results. There are numerous advantages to hiring a professional painter, even beyond the obvious upside of you never having to pick up a paintbrush.
Your time is valuable. Whether you end up taking time off work, hiring a babysitter, or just missing out on other activities, there is always a cost to spending a few days painting. Is that really the best use of your time, especially if the results aren't perfect? There's more than just the time spent with a roller. You'll save the time spent prepping the walls, filling holes, taking down switch covers or handrails, protecting baseboards or trim, painting, cleaning out brushes and putting everything back. So many, many more hours than just the painting.
A professional painter will give high quality results. Professional painters are experts at what we do. We have an incredible attention to detail to ensure perfect projects. In addition, our years of experience have taught us which products to use and which to avoid. We know exactly what areas we need to tape off, and which tape is the best choice. We use high quality paints and brushes, but we also know which paints are overpriced and don't live up to the hype. We have the right equipment to get into difficult spaces, reach high areas, and hit those tight spots. We also do everything right to protect your home. The most frustrating part of a painting project is noticing the little drops of paint afterwards that have splattered around your drop clothes or hit the ceiling. When you use All Star Plumbing and Restoration we make sure that your home looks beautiful when we're done.
The peace of mind you'll have from hiring a professional is priceless. Make sure to hire an insured, experienced expert when selecting a painting company. This will ensure that any problems that do arise will be addressed quickly and without additional expense to you. All Star Plumbing and Restoration will get the job done efficiently and with full protection for our customers.
5 New Plumbing Trends for 2019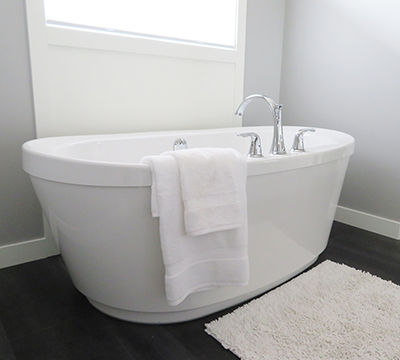 While you may not see the new plumbing trends for the year on the morning talk shows, they may actually be incredibly valuable to you in the coming year. Like every industry, plumbing is improving in efficiency, reducing costs, and increasing its use of technology. Before you start a remodeling or renovation project this year, give some consideration to these new trends.
Touchless Faucets – hands-free faucets are becoming increasingly popular in homes throughout the area. As the price continues to come down on these faucets they become more practical for families to consider. You certainly can't beat the convenience and cleanliness of not having to touch the faucet with dirty hands.
Free-Standing Bathtubs – while the claw-foot tubs of the past lost their popularity years ago, they're beginning to make a comeback. Maybe not the exact same tub design as your grandparents, but certainly a close relative. One appeal is the "spa-like" feeling that a freestanding tub gives to the bathroom. It adds elegance and luxury to the average bathroom.
Water Heaters – there have been many developments in the evolution of water heaters over the years. You'll want to consider some alternatives to the standard water heater before replacing your old model. Many homeowners are opting for a tankless water heater because it takes up less space and uses less energy. Not to mention their unique ability to provide an endless stream of hot water on-demand. Solar water heaters are also becoming increasingly popular. As you might guess, these water heaters are powered using the sun's rays, which are converted into solar energy through solar conductors that you position outside your home.
Dual Flush Toilets – the dual flush toilet is certainly not new technology but it's become increasingly popular in recent years because of the dramatic reduction in water consumption. These toilets have two buttons on the top. One for a lower-volume flush, and one for a large volume flush, depending on need.
Shower Upgrades – the whole showering experience has been getting a facelift recently. Current trends include frameless showers, floor-to-ceiling designer glass, beautiful tiling, and now shower sound systems. New showers allow you to listen to your favorite tunes, adjust the water pressure or change the temperature setting all with the touch of a button using an LCD screen which is mounted inside the shower.
You may not give much consideration to the plumbing in your home, but you don't have to just accept it the way it's always been. Take a serious look at the new trends before completing your next home project. These upgrades can save you time and money while also increasing the resale value of your home. The plumbing team at All Star Plumbing and Restoration can upgrade your home to these current trends any time.
Shower Options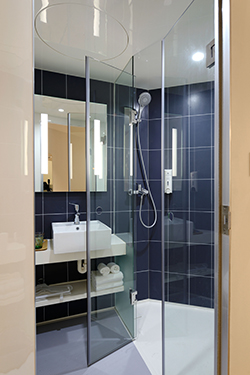 If you're looking at the old gold colored trim and the clouded glass door when you step in to your shower, you're probably not thinking luxury. Maybe it's time for an upgrade. New designs can make your shower space feel like an oasis. If you currently have the shower/tub combo going on, consider changing that up to either just a shower or one of each. If you're concerned that it'll feel too small with both a shower and a tub in your bathroom keep in mind that the glass doors on your shower will actually give the illusion of more space in the room.
There are many different choices when it comes to shower renovations. One popular option is minimizing walls and creating a more open, minimalistic feel to the shower. This typically means that the shower is open on either one or two sides. There will be some plumbing requirements to make the drainage work properly, or consider keeping a step up into the shower to allow you to use the more standard shower pan without requiring any changes to the floor joists underneath. A step up can still give a very trendy look and allow you to move ahead with a barrier-free shower and a lower installation cost.
Adding showers in unique spaces – such as under the eaves of a finished attic or in a basement space – has become much easier with the recent uptick in tiling. Getting away from pre-fabricated shower stalls allows for showers to be added in much smaller spaces or unique geometries without a massive increase in cost. Another advantage to tile is the ability to add storage cubbies located between the studs in the walls. While these are only about 3.5" deep they still allow for typical shower items to be stored such as soap, shampoo, razors, kid's toys, etc. As long as these spaces are well sealed against moisture, they can provide several shelves and plenty of shower storage.
Want your shower to be part of your smart home? Technology has broken into the shower as well. You can add features to allow you to listen to music through your shower sound system or add a television and watch your favorite Netflix show while you soap up. If your spouse is a shower hog, add a second shower head with independent temperature controls programmed to your perfect degree.
All of these innovations can be done at a variety of price points to hit any budget. If you'd like more ideas, the team at All Star Plumbing and Restoration can meet with you to discuss improving your shower experience and getting the upgrades completed right away.
Winter Olympics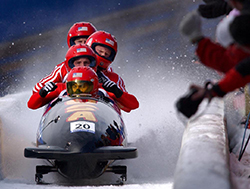 Looking for ways to entertain the kids indoors? After the high of Christmas wears off it can be difficult to find ways to keep the kids entertained through the long haul of winter. Here's a great way to spend an afternoon, without spending a bunch of money. Try doing your own, slightly modified, winter Olympics.
Speed Skating – give each person 2 hand towels to put under their feet, set up cones either to go around or to create a finish line, and then "skate" with your feet sliding along the ground on the towels. This activity works best on linoleum, hardwood, or ceramic tile flooring.
Cross Country Skiing – give each person several Oreo cookies, spread out a large map of the world (available to be printed here), and take turns sliding cookies across the map. The first person to land one in each continent wins.
Ice Hockey – tape an empty tissue box as a goal on each end of the kitchen table with the opening facing towards the center of the table and give each player a chopstick. Place an ice cube in the middle of the table and see who can get their ice cube in the other person's goal first. Of course you must use your chopstick as a hockey stick. For an extra challenge try only holding the chopstick with your mouth. This is a great activity to do on teams as a family.
Skeleton – print out skeleton parts (available here) and cut each bone out. Spread the bones on the far side of the room. Give each player a bath or beach towel to lay on. Use your arms to pull yourself across the ground on your towel to retrieve each of the bones. Bring them back to the start and be the first to assemble your skeleton.
Curling – Make a square on the table out of tape. Give each player several bracelets and have them take turns sliding them across the table trying to get them to land on one of the tape lines. The first player to get a bracelet on each line wins.
Bobsled Racing – cut an old wrapping paper tube in half. Secure the top to the edge of a table and create two ramps going down to the ground. Make a tape line on the ground a few feet away from the bottom of the tube. Race cars down the tubes to see which "bobsled" crosses the finish line first.
If you really want to set the mood, start with an opening ceremony parade. Give each participant an ice cream cone filled with popcorn to hold up as their Olympic torch and then parade around the house with the national anthem playing. For a closing ceremony make a sheet cake with white frosting and then use jelly beans to create the Olympic rings on the top of the cake. With a minimal amount of prep work, you can make the next snow day a blast.
Past Plumbing Newsletters