How Does the Plumber Detect a Leak Under Concrete?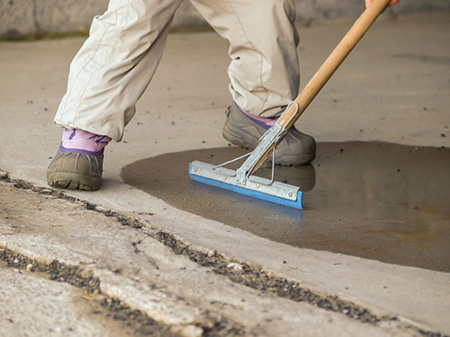 Eventually the pipes that run under the concrete foundation of your home may wear out or begin to leak. The damage that this type of leak can cause to your home can end up costing you a substantial amount of money if left untreated for too long. How can you determine if there's a leak under the slab of concrete? One indicator could be your water bill. If you notice your water bill is higher than normal, and there's no other reasonable cause like an increase in house guests, it's possible that you've got a leak. Of course this may indicate a leak, but certainly won't indicate where. You'll have to do some investigating to determine where the leak is coming from. If you've assessed all of the visible pipes in your home, and don't see obvious water damage anywhere, then your leak could be under your home.
Another indicator of a problem is the sound of running water. If you stand in your basement and hear water running when none of your faucets or appliances are turned on, then you likely have a problem with the subfloor plumbing. Of course if you see small puddles anywhere on the floor, then you should contact All Star Plumbing and Restoration right away to investigate. If the concrete in your basement is exposed you may notice cracks in the floor or walls either inside your home or in the foundation outside your home. If the floor is covered in carpeting, mold or mildew may appear or the smell of it might be noticeable. Any of these would indicate a problem with the plumbing beneath your home.
It's important to address a potential problem as early as possible. If the soil under your home gets too saturated from the leaking water it will heave and could lead to buckling or cracking which could then cause structural damage to your home. Addressing that problem will cost a tremendous amount more than getting the broken pipe fixed.
As a homeowner you should watch for the signs and symptoms described above, but the expert plumbers from All Star Plumbing and Restoration have more sophisticated ways of detecting a problem. We'll come out to your home with specialized equipment such as pressure gauges, inspection cameras, electronic amplification equipment and electromagnetic pipeline locators that can all be used to find the source of your problem without breaking up concrete to look for it. Once the source is found we'll deal with the problem and then help you with any restoration work that's necessary as a result of water damage that may have occurred from the leak. We can work with you from detection to complete restoration to make sure your home is back to looking its best.
The Importance of Your Main Water Shut-Off Valve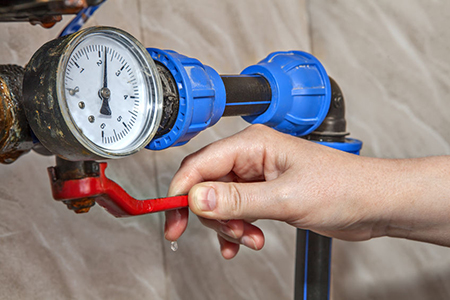 It's common for homeowners to assume that they'll never need to do anything with the main water shut-off to their home, but it's still important to know where it's at and how it works. You simply never know what might happen, and the last thing you want when an emergency happens is to be searching for the shut-off valve.
The "main water shut-off valve" is exactly what the name implies – it's the valve that controls the water supply to your entire home. This is the one place that you can go to should you need to turn off all water coming into your home. While it's likely that you'll go years without needing to access it, it's handy to know where it is should you have a broken pipe, need some type of plumbing repair, or attempt a DIY project like adding a bathroom.
Locating your main water shut-off valve is a simple process. In most homes you'll find it in the basement, towards the front of the house. However in some situations it can be outside, near the water heater, under the kitchen sink, or near the front door if there is no basement. When you purchase your home the inspector can show you where it's at and explain how to operate it. Every home has one, you just need to find yours. The shut-off valve will have a lever handle or a "wheel" handle on it.
It's always a good idea to inspect the main shut-off valve periodically and ensure it's in good working order. You should be able to easily turn the handle clockwise to turn-off the water supply. It may take several revolutions to completely shut off the water.
If you need to turn-off the water supply to your home and clear the lines here are a few simple steps to follow:
Turn the valve at the main shut-off to the water off position.
Open a tub or sink faucet on the highest level of your home to release pressure. Then move to other faucets throughout the home to drain-down the entire system.
If you plan to completely drain down your home make sure to shut off power to the water heater or any other type of boiler. If you have a gas water heater turn down the thermostat all the way to the pilot only setting. Remember that if you drain the heater you should shut off the gas.
If you have any trouble locating your main water shut-off valve or need assistance using it give All Star Plumbing and Restoration a call, we're happy to come out and help.
When to Call the Emergency Plumber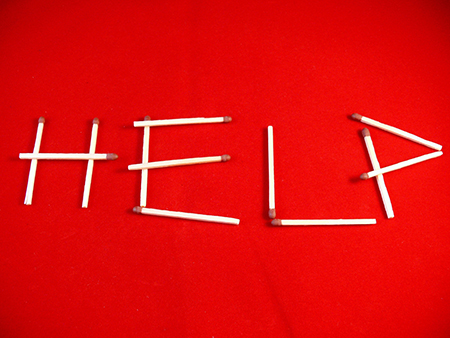 While no one wants to have to call a plumber there are some situations where it's definitely the best course of action. The reality is that very few homeowners spend a significant amount of time interacting with the plumbing in their home and certain emergencies should prompt a phone call to All Star Plumbing and Restoration. Here are the top 3 reasons we've seen that you should call an emergency plumber.
Gas Leaks – you may think this is outside the scope of your plumber, but the truth is plumbers regularly fix problems related to natural gas furnace connections and copper pipes. A gas leak is not something to mess around with. If you have one, or suspect that you do, it is an emergency! You need to contact a plumber right away. You should leave your home until the plumber has come out and addressed the situation. This is never the right time to have a "wait and see" attitude. The consequences of a gas leak left untreated are catastrophic so be sure to get this problem dealt with right away. You should get your heating system inspected annually to try to prevent a gas leak, but even with that it's possible to still have a leak occur.
Water Pipe Bursts – for most people this one is obvious. If a pipe bursts they're going to pick up the phone and call a plumber ASAP, but how can you be sure that a pipe has actually burst? If you see a flood of water in your basement, see water seeping through the walls in your home, or have water coming through the ceiling, you have a major plumbing problem and likely a pipe is to blame. Another indicator of a pipe breaking is that you've turned on a faucet but no water is coming out. If this is the case you probably have a pipe that has burst. If you suspect a water pipe has burst step one is to find the main shut-off valve to the home and turn the water off. The next step is to call All Star Plumbing and Restoration.
Clogged Toilet – this may sound silly but most families can't go too long without a working toilet. If you've attempted to unclog it but it hasn't worked this is probably a plumbing emergency, especially if you only have one toilet. Even if your home has several toilets, depending on the location of the clog, you may not be able to use any of them. This is definitely a problem that requires immediate attention.
Best Baked Beans – EVER!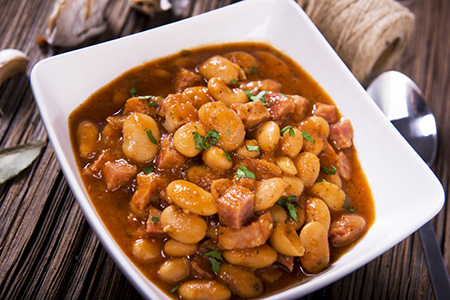 Looking for a twist on the usual, boring baked beans? If you want something to take to that next neighborhood BBQ that will have everyone raving, then these baked beans are for you. We strongly recommend that you double the recipe because they'll go fast.
Ingredients:
½ lb ground beef
5 strips of bacon
½ c chopped onion
2 cans pork and beans, undrained
1 can butter beans, rinsed & drained
1 can kidney beans, rinsed & drained
1/3 c packed brown sugar
¼ c. sugar
¼ c catsup
¼ c barbeque sauce
2 T molasses
2 T prepared mustard
½ tsp chili powder
½ tsp salt
Brown the ground beef with the onion and cook the bacon. Set the bacon aside to drain and cool. Add all of the different beans. Mix other ingredients together and pour over beans. Break the bacon into smaller pieces and add. If you're taking this to a barbeque put everything in the crockpot otherwise pour it into a greased 2.5 quart baking dish. Either bake at 350 degrees for an hour or let cook in the crockpot.
Past Plumbing Newsletters