Time to Shut it Down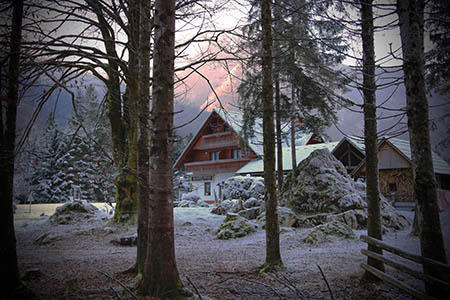 If you've not yet completed the process of preparing the outside of your home for winter…NOW is the time. When it comes to being ready for colder temperatures the most important areas for you to address are those associated with your plumbing. While racking the leaves and pulling out dead plants may make a higher visual impact, preventing water from freezing in your lines and causing costly damage, is far more important. There are a few primary items to check off your list before freezing temperatures set in.
Garden Hose – be sure to detach these from the faucets and move them inside, generally in the garage or other storage area. Leaving them attached can not only cause damage to the hose, but also to the actual water lines inside your home. As water freezes inside the lines pressure will build up and if the water has nowhere to go on the outside, it may cause the lines inside to break. After you disconnect it, drain all of the water from it, check it for damage, and then coil and store it inside.
Outdoor Faucets – after the hoses have been dealt with it's time to make sure the faucets are good to go as well. Locate each outdoor faucet and then find the shutoff valve for that line. Generally this is located in the ceiling of the basement or near the main water shutoff. These will look like a lever rather than a standard faucet. Turn these off and then go back outside and open each faucet. A small amount of water will drain out. Go back inside to the shutoff valve, place a bucket underneath, and remove the bleeder cap to drain any remaining water from the line. Finally replace the bleeder cap and close the outside faucet. If your home pre-dates the indoor shutoff valve contact All Star Plumbing and Restoration and we'll come out and retrofit your faucet with a frost-free unit.
Rain Barrel – if you have a rain barrel you'll want to winterize that as well. Disconnect it from your gutter downspout and connect a temporary downspout extension to the gutter. Drain any remaining water from the rain barrel and open the barrel's spigot. Leaving this open through the winter will prevent any damage from occurring should water get inside. Rinse the barrel and remove any built up sediment from the bottom and your rain barrel will be ready for full use come spring.
Warm and Cozy…or Fire Hazard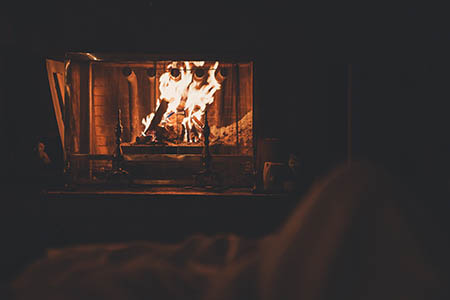 As we all start spending more time indoors and the temperatures begin to fall, we often start filling our homes with fire hazards. Things such as the fireplace, candles, space heaters, and more are all potential fire starters if some basic precautions aren't taken. Here are a few tips to help you keep your home cozy without putting it at risk for a fire.
Space Heaters – while space heaters may be the best, or only option, for heating smaller areas of your home, they're also one of the biggest sources of home fires. Be sure to turn your space heater off when you leave your home or when you go to bed for the night. In addition, check the area around the unit to make sure it has plenty of clearance from anything that might be flammable. Finally never plug a space heater into an extension cord, it should always plug directly into the wall outlet.
Fireplaces – there is nothing better than the ambiance that the fire creates, but they do require some maintenance. It's highly recommended that you get your fireplace professionally cleaned and inspected annually before use. Buildup of soot can definitely cause a chimney fire. When you start a fire in your home you should not need the use of lighter fluid of any kind so be sure to leave that in the camping supplies. Use a minimal amount of paper, instead use smaller wood chips. As with the space heater you should always put the fire out when going to bed or leaving your home. To prevent loose embers from blowing into your home and starting a house fire, put a metal or glass screen in front of your fireplace opening.
Candles – as an open flame the danger here is pretty obvious. Candles should be on a flat, stable surface, kept away from children and contained within a candleholder. As with the space heater, be aware of what is in the area around your candle and make sure nothing is too close. Items like curtains can be especially dangerous. Always blow the candle out before bed or when leaving your home.
Do Toilet Fresheners Really Work?
Since basically forever people have put things in the bathroom to cover the smell of going #2 – sprays, air fresheners, plug-ins, candles, diffusers, and on and on it goes. Unfortunately those are intended just to cover the foul smell – not eliminate it. Which generally means that the particles from the air freshener end up mixing with the scent of poo and resulting in something slightly more pleasant, but definitely not great. They also make it incredibly obvious what you're trying to hide. Recently a whole rash of new products have hit the market with the goal of actually eliminating the smell at the source, the toilet. The question is do they really work?
The short answer is – yes! The first of its kind was the toilet spray from a company called Poo-Pourri®. You simply spray a few drops of the Poo-Pourri spritz into the toilet before taking care of business. It creates a film over the water which traps bad smells inside and releases a floral scent from the essential oils. Given that this company has grown to a value of over $300 million in just 5 years, it must work pretty well. There are several other companies offering similar styles of products – Air Wick, Squatty Potty, and Mask just to name a few.
Another option comes from Aesop Post-Poo drops. These are intended for use after you flush. Squeeze a few drops in the toilet and release a citrus odor in the restroom. This version is more expensive but appeals to those who are looking for something with greater visual appeal to the packaging, it looks classy and similar to a lotion or soap bottle.
If you're looking for something you can take on the go Plop Star and Just a Drop are good choices. Plop Star is a tablet that comes individually packaged in a very discreet manor to allow you to put one in your purse or pocket and take it with you. You put the tablet in the toilet for a few seconds prior to settling in and it dissolves and creates a cover over the water which then contains the odor. Just a Drop works very similarly with just one drop needed in the toilet pre-poop and a lovely eucalyptus scent emerges. It's again packaged in a very small bottle for maximum subtlety.
At this point there has been no evidence of any of these products causing plumbing problems or damage to the water system, they appear to be safe to use in your home on a regular basis. So if you want to improve your scent situation, consider giving one of these products a try.
Simple but Elegant Thanksgiving Centerpiece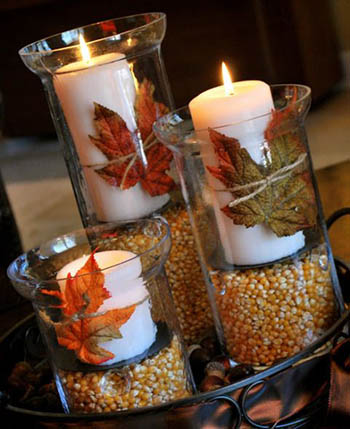 Are you about to have a house full of guests this Thanksgiving? There is plenty to do just getting a large meal on the table who has time to spend forever putting together centerpieces as well? This extremely simple craft will give you a gorgeous centerpiece in less than 5 minutes.
Supplies:
3 glass jars of varying sizes
Popcorn kernels
3 candles that fit inside the glass jars
3 candle holders that fit under the candle and inside the glass jar
Twine
Artificial Leaves
Fall colored beads, rocks, acorns, or pinecones
Assemble the 3 glass jars by first pouring enough corn kernels in each to fill it about 1/3 of the way. Then place the candle holder inside to create a level surface for your candle to go on. Use a small piece of twine tied around the candle to secure the leaf and place the candle inside the jar. Place all 3 glass jars on a plate or bowl and surround the bottom with you fall beads or rocks. That's it! You've got yourself something beautiful for the middle of your table this year!
Past Plumbing Newsletters