Tips for Cutting Costs on Water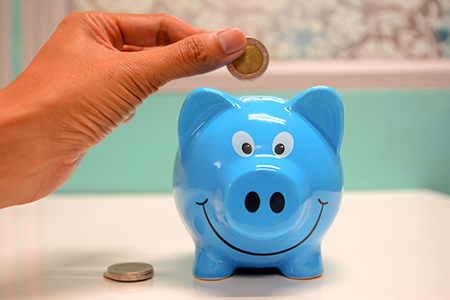 As Christmas approaches money seems to disappear at an alarming rate, and while you might not be able to avoid purchasing that required gift for the in-laws, you may be able to reduce other bills in an attempt to offset some of the cost of holiday shopping. Your water bill is a great opportunity to both reduce your expenses, and help preserve the environment.
First take a look at your current bill. Have you noticed it climbing at all over the past few months? Have there been any months where it went down? How does that compare with the previous year? Being aware of what's "normal" for your water bill based on the specific month can help you catch a leak early. If you see an unexpected uptick in water usage it's worth investigating to see if there may be a plumbing leak somewhere that's causing it. Even a small leak can cost you big dollars and in many cases it doesn't take long before a small leak, becomes a big one. If you want assurance that the plumbing is in good working order All Star Plumbing and Restoration can come out and complete a whole home plumbing inspection.
Next look for practical ways to simply use less water. Think about something as simple as teeth brushing. The average person brushes their teeth for 2 minutes. If the water is running that whole time that's 3 gallons of drinking water going down the drain. Now let's say you're a family of 4 who each brush twice a day that's 24 gallons of water wasted every single day. A small change here could have big impacts on the bill. In addition to turning the water off during brushing, install a tap aerator on every faucet in your home to reduce water use by 50% or more.
Another big water consumer is the toilet. The average household of 4 will flush the toilet 20x per day using over 47 gal of water. If you reduced that to just flushing every other time, unless there's company over of course, you would save big over a year.
What about the shower? This is another big water consumer in most homes. If you cut your shower time by a few minutes, or added a water efficient shower head, you could see a big savings. In the United States we're incredibly fortunate to have an abundance of available clean water, but in other parts of the world that simply isn't the case. Here's some food for thought. In Cape Town the water shortage has become so severe that they have limited consumption to just 13 gal/person/day. To put that in perspective that means a 90 second shower and 1 toilet flush per day if you want to have water available for drinking, handwashing and cooking. So it's certainly possible to reduce water usage and shrink your bill this year.
Commercial Plumbing Needs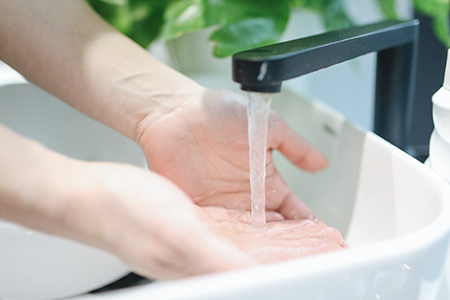 If you're a business owner or maintenance person you know that the pressure put on a commercial plumbing system can be intense. Toilets and faucets can get extremely heavy traffic, resulting in thousands of gallons of water flowing through them each and every day. Businesses also have different needs such as handicapped accessible restrooms, proper waste water disposal for machinery, water restrictions on incoming water, and much more. You need a plumber with experience in commercial plumbing to help you out when service is required.
All Star Plumbing and Restoration has been helping our commercial customers for years. We understand that you may need us to be discreet and work after hours, be available for things like machinery installs, and be knowledgeable about things such as local codes and requirements for your specific type of business. Our expertise is second to none and can be an invaluable tool in your toolbox.
The water system in larger facilities is very different than what you see in the average home. There are a lot more moving parts and a whole different set of considerations. For example, your building may have a multitude of different types of faucets. If one of them starts to leak you need someone who can tackle the job regardless of the specific set-up. Dealing with something as simple as a leaky faucet can be a big deal for a business. If left for too long property damage and high water bills can quickly occur.
In addition, as a business you're liable for the safety of both your employees and customers. A faucet that fails to properly regulate the water temperature could result in injury that could be disastrous for a small business. If the sprinkler system doesn't work properly the damage to your equipment and facility could set you back months or even close your doors all together.
All Star Plumbing and Restoration uses the latest in technology to guarantee the fastest resolution possible to your commercial plumbing needs. Our team has an extensive background in plumbing problems both big and small. Whether you have need for new plumbing, system upgrades, or repairs we're up to the challenge. Give us a call today to see how we can reduce your water bill and keep your plumbing running smoothly for years to come.
Hanging Drywall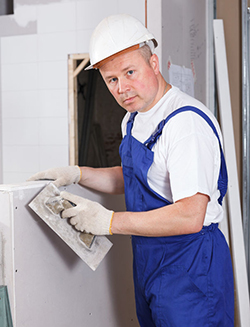 If you've had any type of home disaster – fire, flood, etc. – it's likely that there will be some drywall work required in the process of restoring your home. For those who haven't done it before you watch those shows on HGTV and it looks like no big deal at all, but is it really? Well for most people getting the new drywall up is something they can, at the very least, stumble their way through but then things can get a little hairy. It turns out that properly mudding and sanding the drywall is more of an art than a science.
All Star Plumbing and Restoration has years of experience helping homeowners recover from various disasters, and thus hundreds of hours of dry walling experience. The most commonly misunderstood fact about mudding is the patience that it requires. This simply won't be a one and done type of job. It will take more than one coat and more than one day to get the perfect results that you're looking for. The next most commonly held myth is, "paint will cover that". Paint will cover nothing. Those bumps or holes or groves you see in the drywall mud will still be seen after you paint the room. It's critical that you get the surface perfectly smooth before you begin painting.
Given that the visual impact of the drywall is probably the most obvious item to anyone who sees the room this is probably one place you should hire a professional to come in and help. The truth is it takes many hours of practice to get good at mudding and sanding and most homeowners simply don't have that breadth of experience.
Maybe you've hung the drywall and gotten to a point where you realize you need some help, give us a call. We're here to help you get to the best finish results possible. For most people staying on budget is their primary concern. You'll find that the pricing you get from All Star Plumbing and Restoration is both fair and reasonable. Save money on things like painting, which you can probably do a great job with, but bring in a professional for the drywall work.
Working through an insurance claim? We can help. Give us a call as soon as the problem occurs and we can help you navigate the process with your insurance company. Filing a claim is something we assist with regularly and most homeowners do only a few times in a lifetime. Put our expertise to work for you and let us get your home fully restored quickly and smoothly.
Hot Cocoa Ornament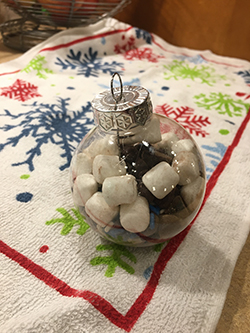 This adorable ornament is the perfect gift for your kiddos to make for Grandma, Grandpa, teachers, Aunts, Uncles and anyone else on their little list. The ingredients are simple and the kids will have a great time creating this gift all on their own.

Supplies:
2.5" round clear craft ornament
Packet Hot Cocoa Mix
Chocolate Chips
Holiday Sprinkles
Mini Marshmallows
Funnel
Ribbon
Tag
Remove the top from the ornament and using the funnel pour the hot cocoa mix into the ornament. Add your desired amount of chocolate chips, sprinkles and mini marshmallows and replace the top on the ornament. Attach a tag with a piece of ribbon indicating that this treasure contains all the fixings for hot cocoa and simply needs to be added to 8oz of hot water.
Past Plumbing Newsletters