Clogged Sump Pump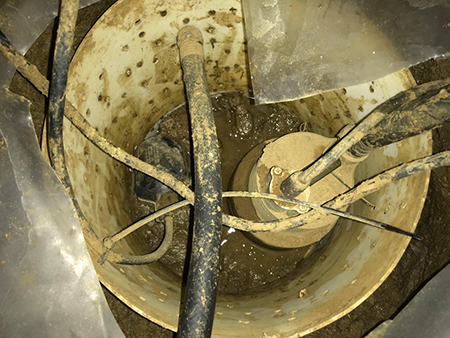 It's a good idea to periodically check your sump pump reservoir to make sure nothing has built up in the bottom. There are times when mud will end up in the reservoir which can end up pushing mud into the line and clogging it or causing the motor to burn out. You will want to do your best to clean all the way to the bottom. The more capacity the tank has the greater amount of wiggle room you'll have if the pump fails. In some cases, the pump will stop running if the tank has become too full. Simply cleaning it out and restarting it can solve the problem.
This is also a great opportunity to make sure the operation of the pump is good to go. You don't want to find out later that the pump died years ago and now the basement is full of water. Think of your sump pump as the last line of defense your home has in the event of a flooding incident. Flooding doesn't have to come from excessive rain. A burst pipe can also result in high volumes of water in your yard and around your foundation, which can be addressed with your sump pump.
The sump pump is like an insurance policy. You may never need it, but if you do you'll be glad you have it. In many situations a sump pump can be the difference between minor water damage and a complete loss. It also helps keep your home healthier by preventing the growth of mold, mildew and other bacteria that like to live in damp environments. The sump pump can dramatically reduce the moisture in and around your home. It can also increase the resale value of your home as it's something future homeowners will likely want to have.
A sump pump will protect your home whether you are there or not. Anytime excess water is present the sump pump will automatically turn on and remove it from the area before damage is caused.
If you don't currently have a sump pump, or need to get yours inspected to confirm proper operation, give All Star Plumbing and Restoration a call.
We have years of experience and can help you determine which system is right for you and get it installed in no time. Not sure about adding a sump pump? Let us get you a free quote and some additional information to help you make a more informed decision. The peace of mind you'll have knowing your home is protected from water damage even when you're away is worth the investment.
Home Visits During COVID-19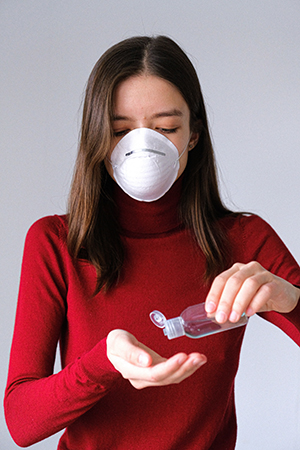 Many people have wondered whether it's safe to have professionals in their home for repairs or new construction projects during the COVID-19 pandemic. We want to reassure all of our customers that All Star Plumbing and Restoration is prepared to take every precaution in order to keep everyone safe. We know that many of our customers are in the higher risk categories, or have interactions with those who are, and we would never want to knowingly put them in danger.
When a member of our team visits your home, we will wear the appropriate PPE (personal protective equipment) during all our interactions with you as well as anytime we are in your home. We have goggles, masks, and gloves to make sure we're not carrying germs from one home to another. While old habits die hard we'll do our best to avoid handshakes and hugs during this time as well. If you and your family would prefer to be away from the home during repairs, we can work with that too. Everyone's comfort level is different and needs vary by circumstances so let us know if you need further accommodations and we'll do everything we can to work with you.
Hopefully, things will go smoothly as our communities begin to reopen and we'll continue on a path to recovery that will include a return to normal in the coming weeks and months.
Hair in the Shower Options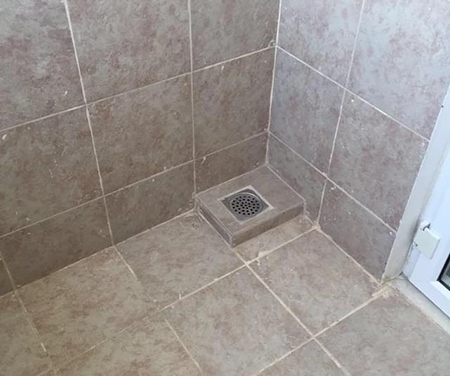 Anyone living with a female, especially one with long hair, has had the disgusting job of removing that wad of hair covering the drain in the shower. One homeowner came up with a…unique…idea. As the picture shows they raised the level of the drain to keep hair away, unfortunately it's also above the height of the door. So not only would you have to stand in several inches of water for it to get high enough to reach the drain, it could potentially seep under the door and flood your house while you're in the shower. You may avoid the hair problem but the solution could be worse than the problem.
So is there actually anything you can do to deal with hair? The truth is you're probably going to end up with a certain amount of hair on or in the drain no matter what you do. Many people don't realize it but shaving can actually cause the drain to clog as well. So even a single man living alone can have a hair clog to deal with. One way to reduce the amount of hair going down the drain is to get in the habit of brushing your hair before getting in the shower. This will remove much of the lose hair with it getting stuck in the brush rather than falling out in the shower.
A safe way to clear the drain without using chemicals is to pour 1 cup of baking soda down the drain each week. Wait a few minutes and then pour 1 cup of vinegar down. This is a natural way to dissolve hair clogs and keep them from creating more substantial plumbing problems for you. If your drain has larger holes you should consider adding a mesh screen over the top. While you may not love having to remove the hair from the shower, it's a far better option than letting it all get down the drain. If too much hair gets down the drain it can cause a serious clog further down the line. Depending on the location of the clog, and any other damage it has caused to the house, you could be looking at expensive repair work.
So while we support creative ingenuity, not all solutions are winners. Be sure to completely think through your plan for any plumbing changes. If you think you have a creative new solution, maybe ask a professional plumber if there's a reason no one else is doing it that way.
Tree Removal Services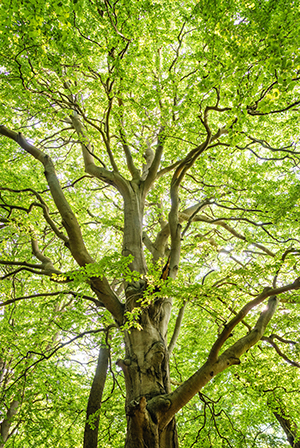 Over time situations present that require a tree to be removed. Either the tree is dead or simply grew in the wrong location. Regardless of the reason, if there's a tree you need to have taken down contact All Star Plumbing and Restoration. I recently watched as a man came out to remove a tree from my neighbor's yard. Unfortunately, he misjudged the situation and the tree ended up clipping the corner of their house on the way down. It caused damage to the roof, siding and gutters before landing in the yard. Sadly for our neighbor, this contractor was not properly insured and just took off. It's incredibly important to do your research and make an informed decision on a reputable company for tree removal.
All Star Plumbing and Restoration is fully licensed and insured with countless positive reviews from previous customers. Our many years of experience have prepared us to address even the trickiest tree removal situations. If you've got a yard full of trees that need trimmed or are preventing enough sun from getting through, we've got you covered. Have some old stumps that need removed, we can take care of that too. You can turn your yard into a great open space for barbeques with the neighbors, swing sets for the kids, and more by simply addressing some basic tree maintenance.
One common tree situation is caused by roots wreaking havoc on water and sewage pipes – hence plumbing meets tree removal. If we come out to your home to deal with a broken or leaking pipe and discover that tree roots are the problem, we can help deal with that as well. We will work with you to only remove a tree if absolutely necessary or if you decide you want it taken out. Taking down a tree is both an art and a science. It takes experience to be able to carefully navigate the removal of branches and the lowering of very tall trunks. We will also be sure to finish the job. In other words, we won't leave you with a yard full of branches and logs to deal with. The job isn't complete until the clean-up is done as well. Call All Star Plumbing and Restoration today to get your tree problem taken care of.
Past Plumbing Newsletters