Causes of Low Water Pressure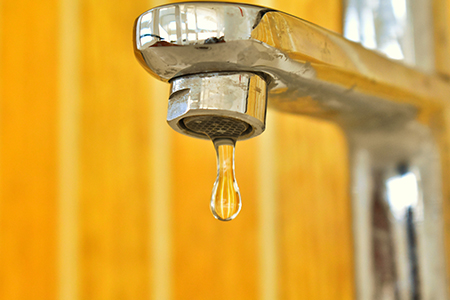 Your home goes through roughly 300 gallons of water a day through countless faucets, toilets, washing devices for clothes and dishes, and more. So, if your water pressure is low you likely have no idea where to begin looking for the cause of the problem. Luckily there are a few common culprits in the water pressure struggle. Your water pressure should be between 40-45 pounds per square inch, which you can confirm with a pressure gauge if you want certainty that your pressure is abnormal. Here's a short list of some of the most common reasons your water pressure may be taking a dip.
Start at the Source – in a surprisingly large number of cases the water pressure issue is coming from your supplier, not inside your home. You may want to ask a few neighbors and see if they've been dealing with the same issue. If so, you likely have a supplier problem. This may be something they're already addressing, but it's a good idea to give them a call and see what they say. If they tell you that the city has changed the regulations, then there may be nothing they can do to increase your water pressure. In these situations, your only option is to purchase a water pressure booster for inside your home. This is a good time to call All Star Plumbing and Restoration to get one of these installed properly.
Check the Main – locate the shut off valve for your home (likely in the basement or a closet) and check that it's fully open to allow for maximum pressure. If it has a lever on it, make sure it's parallel to the pipe. In a spigot style it should be turned as far as it will go in a counterclockwise direction.
Pressure Regulator Failure – if your home has a pressure regulator it's possible that it has begun to fail. You can confirm this by using a water pressure gauge attached to an outside spigot. If the number on that gauge doesn't match the number on your pressure regulator, then it may be time for a new regulator. This may be another time to reach out to a plumber for assistance.
Pipe Problems – there are a whole series of potential pipe problems that can lead to low water pressure. If there's a clog in the pipes, the pipes have corroded, or there's a leak somewhere in your pipes – you may see a loss of pressure. This can be difficult to self-diagnose and often requires a visit from a plumber. There are such a range of potential problems, locations of failure, and solutions that most homeowners struggle to zero in on the best course of action to deal with a problem within the pipes.
There are certainly other issues that could be causing your low water pressure – shared pipes between you and a neighbor, a faulty fixture, and several others. Most of these though are problems that can be addressed and full pressure can be restored throughout your home. If you need help diagnosing the problem, or implementing the solution, give All Star Plumbing and Restoration a call today. We can get you back up to maximum hair washing bliss in no time.
Caulking a Shower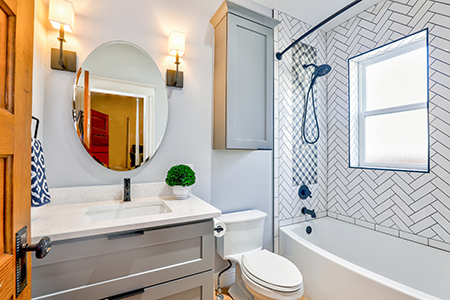 One of the best ways to make a shower or bathtub look old or dirty is by having caulk that needs replaced. Over time the caulk can become discolored, begin peeling, get dried out or cracked, or have mold or mildew growing beneath it. In any of these cases it's time for a re-caulking job. Luckily this is a simple task that most homeowners can take care of themselves.
First some facts about caulk. Caulk will typically last about 5 years before needing replaced. This could vary a bit depending on factors such as the type of caulk used, the humidity levels in the air, how often the area gets cleaned and other environmental factors. In new homes there can be some settling that occurs in the first year which could result in the need to caulk again after a shorter period of time. Caulk is an adhesive material that seals the area around the shower or tub to prevent water from leaking. It's designed to be used with a caulking gun and will harden as it dries.
To complete this DIY project, gather the following items:
Single-edged razor blade
Caulk remover
Towel
Razor scraper
Utility knife
Caulk
Caulk gun
Start to remove the old caulk by using a utility knife to carefully strip it off. The knife should slide fairly easily between the caulk and the surface of the tub or surround. If you find it doesn't want to come up apply some caulk remover with a towel first.
Thoroughly clean the area after removing the old caulk. Any bathroom cleaning product will work for this. Just make sure any mold, mildew, or loose grout is taken care of.
Secure the caulk in the caulk gun and cut off the tip. If you're unfamiliar with this process review the instructions on the side of the caulk can.
Apply a thin bead of caulk and then use a wet finger to smooth it out. A wet rag can be used to address any areas of excess caulk.
It will take about 24 hours for the caulk to fully dry so hold off using the tub or shower until after that amount of time has passed. Otherwise your shower area should be good to go for another 5 years or so. While you have the caulk out you might want to check other areas such as around the faucets, along the top of the backsplash or vanity, where the tub meets the floor and around the sink to see if they need a refresh as well.
Tree Time – Removal & Trimming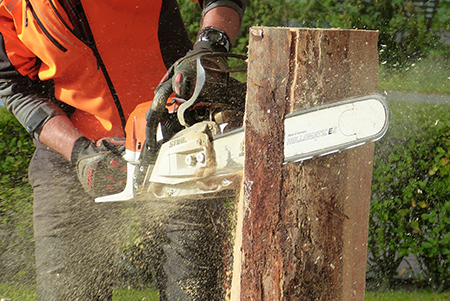 Before the weather begins to turn it's a good idea to take a look around your property and see if there are any trees in need of some love. While leaving a dead or dying tree may seem like no big deal, it could certainly become a problem if higher winds, heavy snow, or freezing rain begin to move in. Any of these could easily bring down a rotting old tree. The worst possible time to have a tree cause damage to your home is in the middle of a cold spell. All Star Plumbing and Restoration is here to help.
Taking down a tree is dangerous work that requires experience to be completed safely. Our team can make sure that your family, as well as personal property, are protected throughout the tree removal process. We are licensed and insured, so you can fully trust that the job will be done right. We also understand that the job doesn't stop just because the tree has been cut down. We will take care of haul away, removal and stump grinding as well.
If a tree comes down unexpectedly it could damage your home or vehicle, block the road or driveway, cause injury, or take out utility lines. In some cases though the entire tree doesn't need to be removed to avoid these potential hazards. Let us take a look and see if a good trimming will provide your family with the protection you need this winter. Many trees add beauty and provide shade that you don't want to get rid of, if you want to keep your tree, we'll see if there's a good option to simply trim it back a bit.
Sick trees can also be a major problem. If a tree looks to be unhealthy you should consider removing it. A sick tree can spread disease to other trees in the area and cause a much larger problem. One sign of a tree disease is browning and die-back of the leaves on specific areas of the tree. If, for example, you see these issues on the west and south sides, your tree may be suffering from sun scald. Another common problem is girdling roots. In this situation you'll notice tip die back, stunted growth or yellowing of the foliage prematurely. Given the climate of the Boise area, both of these are common tree problems, along with insect related issues. We would recommend bringing in a tree expert to take a look if you're uncertain whether to treat the tree or have it removed.
No matter what your tree needs are, All Star Plumbing and Restoration can get it done. Whether some Fall pruning is in order, old stumps need ground up, or a sick tree has to be removed we've seen it all before and have the experience to safely tackle the job.
Fall Fun in Boise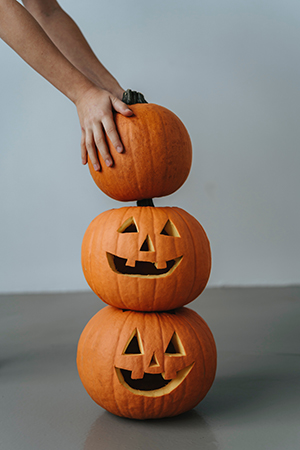 This year has certainly been unlike any other, but that doesn't mean there's no Fall fun to be had. Check out these great ideas for something to do this weekend to fully enjoy the last of the warmer temperatures.
The Haunted World – located in Caldwell. This is one of the scariest haunted houses around. It's both indoors and out and will take you a few hours to go through. So plan on a fun date night evening spent here.
Nyah's Haunted Woods – found on Eagle Rd this amazing farm has a little bit of everything. Enjoy all the traditional fall favorites with a corn maze and petting zoo, or stick around after dark for some scarier fun in the haunted woods. This one could take you all day to explore.
Idaho Botanical Gardens – take a walk through the gardens and enjoy the "Scarecrow Stroll". These clever scarecrows will make you chuckle at their creative designs. This is a lighthearted activity for guests of all ages. Make sure to vote on your favorite!
Haunted Halloween Trolley Tour – Boise Trolley Tours take place every night and will engage your imagination with tales of local folklore and hauntings. Your ticket here will also get you entry to the Old Idaho Penitentiary.
Hocus Pocus – on select nights in October, The Sapphire Room, will be showing Hocus Pocus. Your ticket will get you snacks and drinks to allow you to fully enjoy the experience. Bring a date or the whole family for this throwback film.
Past Plumbing Newsletters